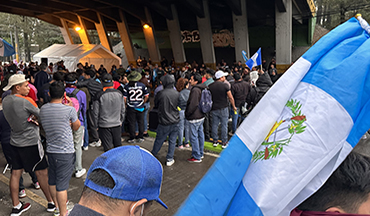 Dunc Dyason

Category: News Posts
Hits: 2073
Rating:

( 1 Rating )
Tuesday 10th October 2023
I think this is the first time I have ever written a blog about the political situation here and do so in the hope that those who read this will pray for the peace of Guatemala, as we are far from that right now.
The world´s attention has been on horrific scenes of death, destruction and violence in Israel and also in Ukraine and the scale of loss of life there as well as those who lost their lives in Afghanistan is almost too hard to take in right now.
Here in Guatemala it is rare to find international news agencies picking up the story of what is happening in Guatemala and some supporters have messaged to ask how we are doing, hence this blog update.
Protests broke out across Guatemala two weeks ago following one of the most contested elections in the country´s history. At the route of the disquiet from most Guatemalans I have spoken to is the political interference in the natural democratic process of electing a new President.
To everyone´s surprise the anti-corruption candidate, Bernardo Arévalo, won the second electoral round and sent shock waves through the political elite who had hoped that a supportive candidate will keep the status quo.
The Attorney-General, Consuelo Porras, has been seen to be actively discrediting Mr Arévalo and preventing him taking office in January, while working to disband his party saying that it was not properly registered.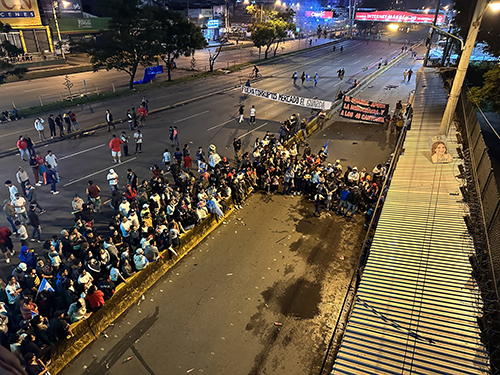 The protests are aimed at the resignation of the Attorney-General who, together with other prosecutors, have been sanctioned by the U.S. government and also have had their entry visas withdrawn. The accusations of the U.S. government are that she and others working with her are obstructing the fight against corruption and undermining the security and democracy of the country.
Two weeks ago 14 blockades were established on key transport routes by mainly Indigenous groups who were calling for an indefinite strike. The blockades grew to 80 yesterday and this morning most of those remain in place.
Yesterday afternoon I walked to one of the blockades to talk with protesters and to understand their complaints and support a friend of mine who was taking part. It all seemed very harmless and their determination to fight for what they feel is a just cause could lead to a prolonged period of unrest in the country.
The Guatemalan President, Alejandro Giammattei, addressed the nation last night and asked for protesters to lift the blockades as they were "illegal, generate supply shortages [and] put Guatemalans' lives at risk". This morning, government spokesman, Napoleón Barrientos, stated that police would act today to liberate some of the major routes into and out of the city.
Already there is some panic buying and the Guatemalan City airport has reported a desperate lack of aviation fuel, which would affect flights in the coming days. One airline, Volaris, has already cancelled all its flights to and from Guatemala and others could follow suit if fuel cannot get through.
Protestors remain committed to bringing about change in the country that has seen years of corrupt officials stealing huge sums of money from the public purse, leaving schools and hospitals in a pitiful state.
However, last night things turned ugly in front of the national palace where hundreds of protestors were peacefully demonstrating. A small group of "infiltrators" began to turn the things violent and police responded by firing tear gas into the fleeing crowd. Masked men threw stones and broke windows and threatened protestors with sticks and continued to clash with police into the night.
We are living in a country under siege and each day will impact our work and the lives of the poorest people we work with. The SKD team will meet today to evaluate the situation and see what help we can offer those whose livelihoods are now affected by the blockades.
Please pray for peace in Guatemala.
---