Street Kids Direct was founded in 2001 by Duncan Dyason, Matt Levett and Joanna Soden and became a UK Registered Charity in 2004.
The work of Duncan Dyason with the street children of Guatemala goes back to 1992 when he moved out to live in Guatemala City with his wife Jenni and baby daughter Katelyn after watching a BBC Everyman documentary called "They Shoot Children Don´t They?".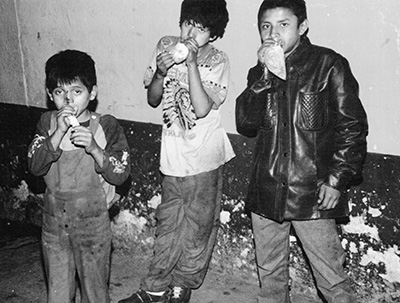 Duncan founded a charity to support his work on the streets called The Toybox Charity and in 2001 he left and founded Street Kids Direct to continue to help reach out to the children of Guatemala City.
The photo above shows Duncan during his first week in Guatemala working in 'El Hoyo', the then notorious part of Guatemala City where many street children had been killed. Those first few months of Duncan's work on the streets in the early 90s was fraught with danger, threats and illness. Furthermore, Guatemala was still in the midst of a civil war and the abuse, torture and killing of street children was a very worrying development as highlighted at many international summits.
The founding principle of Street Kids Direct is that the charity guarantees 100% of all its donations go directly to the projects it supports in Guatemala and now in Honduras. This is achieved by keeping the charity as an online only charity. We have no offices, no paid staff and no running costs. We are all volunteers who give our time and personal finances to work for the charity.
Since the charity began supporting the children on the streets of Guatemala City in 2001 it has grown into one of the most effective charities working with street children in Guatemala today and now supporting inspirational work with street and "high-risk" children in Honduras. The charity is also involved in providing support, advice and training to a charity in the UK helping children "at-risk" and over the years to many other charities in Latin America.