Friday 19th June 2020
---
The number of cases of COVID-19 has increased quite dramatically in the last two weeks and triggered further restrictions from the government that have limited the outreach we can do for the moment. Despite the limitations we are able to leave certain days and visit families at risk as well as offer food parcels to the many families we are caring for each week. Every person who comes to our Mentoring Centre to collect their food parcel, or who receives it when we visit them in marginal areas of the city, does so with great joy and so much gratitude that I am often overwhelmed by it all. Thank you for helping to make all this possible.One amazing sacrifice
This week there have been many events to inform you of and so I will try and be brief so as to not make this blog too long, but each event is so filled with excitement and emotion that this will be a challenge.
I had messaged Jonathan, one of the vulnerable boys I mentor, on Monday and asked how he was. I knew that things were tough, especially given that his dad was probably out drunk on the streets all weekend. Thanks to a special fund we setup we could let him have a phone so he can keep in contact with me and the team. Jonathan replied saying "BAD". I called him back immediately and asked what was up and the story came that his dad had been drinking all weekend and had come home with nothing in his pockets and had lost his job. They had eaten very little and now had no food at all in the house.
Jonathan (photo above) lives with his adorable little sister, mum and dad in a small house in one of the marginal areas of Guatemala City we have targeted for the mentoring programme. A good percentage of the children that used to live on the street 15 years ago came from this area and so given that and the many other risk factors that these children live with means they are highly likely to look to the streets as a solution to their problems and if not the streets, the local gang.
I was with Alex in the car when I called him and so we took the decision to drive over to their home and buy some supplies on route. Jonathan, his mum and sister met us and were so very pleased to receive a few bags of food, enough for the rest of the week at least.
We returned to visit him on Wednesday, which just happened to be Father´s Day here in Guatemala, and Alex and I were presented with a special mug to celebrate Father´s Day. It was a colourful little mug and one I know would have cost them a few meals. No wonder they had no food, they had more than likely gone without so they could buy us gifts. Just the most powerful present and one that means so much as it represents and expresses love.
On the way back we drop by to visit a family who are living in a large tin shack and talk with Paola. Paula is nine and is a girl we are concerned about and seems to be always caring for her 4 young brothers and sisters. She never smiles and I wonder how much of the worries of caring for the family are upon her shoulders. But she does have a dream!
Paola asks me what I think about helping her build a bedroom for her and her 7-year-old sister. At the side of their shack they have been given a piece of land that they would like to use to house a few animals and also build a small tin structure that will become their bedroom. Despite funds being rather limited at the moment I couldn´t help but offer something towards her dream and so with some basic materials on the way I will keep you posted as to when her dream becomes a reality.
We head back to Casa Alexis to make drinks for the builders currently working there on the development of the next mentoring centre. It has been busy here recently after a donation came in to take the next step in renovating the building. I am very keen to have it all ready for when the kids are able to come back and visit the centre again.
Our plan is that the Casa Alexis Protection Home is closed for the moment unless there is an emergency for children or families. One such emergency came up recently when we had to house two boys and their mum. The mum was very ill and needed medical treatment here in the capital and so came for her treatment at the clinic nearby and her two younger boys came also to support her and enjoy a short break.
The home is a great place for children at risk and we are ready to take in any family or child/children as and when the need dictates. There are many more protocols in place now that govern our daily behaviours and how we deal with emergency situations. The safety of those coming and of us volunteers is paramount and we feel that we can remain open to emergencies if all the protocols are followed.
To finish my blog, I would like to tell you a story of a fridge. Ok, I know it has already started to send you to sleep, but hang in there because this a very encouraging story.
I was sent a photo in the week of a fridge. It was a second-hand fridge and it was in pretty good condition. The person who sent it to me was Don Rafael, the father of Damaris who was featured in a video testimony recently. Don Rafael was very excited as he had just bought a fridge for the family and wanted to share the good news.
A year and a half ago this was a very different story and, as Don Rafael will willingly tell you, he was a mess and so was his family. Almost homeless again and living in great poverty due to his drinking addictions, the family were staying with us, on and off, at the Protection Home. They were very dark days indeed and if you have not seen Damaris´video testimony, and can have a tissue nearby, then check out her video here.
Since Don Rafael´s life changed after becoming a Christian he has worked hard to gain his family back and save money to improve their lot. When we were allowed, before the current pandemic, to visit the families in their homes I would often see Don Rafael sat on the bed with his wife sat behind him and leaning forwards embracing him the whole time we spoke. She tells me how much he has changed and how happy they are all now.
Later in the evening Don Rafael calls me very concerned as he says the bit at the back of the fridge is getting hot and should he turn it off. I explain that this is normal and he tells me that since they have never had a fridge before this is all new to them. They are so happy they can keep food cold now and are planning on saving up for other things the family need.
Transformation is incredible to watch in people and it leads to a special moment this week when I speak with their son, who is in the mentoring programme with me. We reflect together on the last few years and how they have been through the most difficult of times and are now enjoying real life, life with hope, with dreams and with love. Be encouraged, your support really does help us invest for the long term in people´s lives. THANK YOU.
---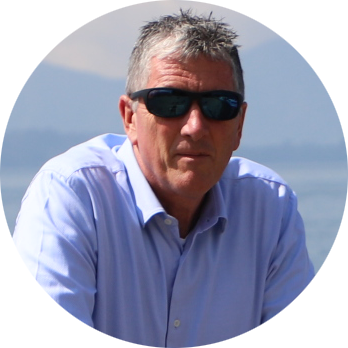 Duncan Dyason is the founder and Director of Street Kids Direct. He first started working with street children in 1992 when he moved to Guatemala City and founded The Toybox Charity. His work has been honoured by Her Majesty the Queen and he was awarded an MBE the year he celebrated working over 25 years to reduce the large population of children on the streets from 5,000 to zero. Duncan continues to live and work in Guatemala City.