Sunday 28th 2020
---
When the call came through from Bryan, I was very pleased but somewhat surprised that he was now in contact with us again. Bryan is 14 and has been off the radar over the past 12 months as he began to fall away from the mentoring programme and become further involved in the local gang.
The huge rise in gangs in Guatemala has been fueled by US policies of deporting anyone from Central America for all manner of crimes over the last 25 years. There was a time when I remember taking a flight from the US to Guatemala and almost half was full of people in handcuffs! The alarming numbers of active gang members who had grown up in the US and were now assimilated into the notorious MS or 18 Street gangs in Guatemala, El Salvador and Honduras slowly increased from 1996 when the US passed new laws to facilitate the deportations. The Violent Gang Taskforce and the subsequent Operation Community Shield in the US targeted active gang members for deportation.
In recent years gang activity has diminished in Guatemala due to a very hard line approach to gang membership, but still the gangs operate in many areas with impunity, albeit to a lesser degree. In one area where the charity is supporting a project in Guatemala City one of the gangs opened up an attractive youth club to recruit young gang members from the age of 10 years.
Bryan has been the target of the gang for the last 3 years and a few months ago was caught up in a gun battle in one of the city cemeteries, leaving 20 people dead. His life has changed so much from the first time I met him and he started to attend the mentoring centre. A fresh-faced 10-year-old who was always full of wonder and questions and who had dreams of doing great things with his life.
Now it seems that the authorities have caught up with him and he is on some form of house arrest and wanted me to go and visit him so he could talk. Despite the restrictions I felt that I could not turn down this opportunity and so headed to a barrio that is famous for its violence, gangs and all manner of things that usually hit the headlines in full colour.
The road into the barrio is narrow and with cars parked at certain intervals on the pavement, meaning that getting to the end of the road takes some maneuvering. I had only passed a few houses and two men, who had been sitting on a doorstep, stood up and began to follow my car, one on one side and the other on the other side of the road. At the end of the road I turned the car round and found a space to park where I guessed it was at less risk of blocking other cars passing.
I got out of the car and could see the men walking up, but just where I had parked there was an alleyway that led to Bryan´s house. I called to him and he came down from the second floor where the family rent a small room that is home to about 7 people. At times this number grows depending on who needs a bed for the night.
Bryan comes out and looks all around him as well as up and down the alley before looking at me and saying hi. We sit on one of the steps and he begins to tell me that he is now living back at home and not with the gang. He has handed back his gun and has decided not to get more involved with them, something that is not normally allowed as once in the gang, always in the gang.
As we are talking three teenagers come around the corner and ask who I am and what I am doing there. They are all fairly high on solvents and so I try and engage with them in such a way that they don´t feel threatened and soon begin to laugh and ask me to teach them some English. It turns out they are just ordinary boys who have been dealt a bad hand and the many choices they have made have led them to a life they feel has no hope.
It does seem an interesting idea of working with them and so later let the street team know that when restrictions are lifted, I would like to return there and see how we could help bring hope and explore with them a more positive future.
I need to finish my discussion with Bryan and respectively ask the boys if they would be happy with me talking with Bryan alone. This seems acceptable to them and so they leave us alone to finish our conversation and Bryan asks if there is any chance I can get him a bed as he and his brother are now having to sleep on a cold concrete floor each night. I commit myself to looking for a donation of a double bed he and his brother can share. We finish by discussing the options of full-time education when schools return and given the fact that he has missed almost all his education, this could prove to be a challenge. But challenges are exciting!
I manage to get out of the barrio without any issues and am grateful for yet another opportunity of seeing God´s hand at work and allowing me to help another lost boy. The future for boys like Bryan is not that great and statistics show that so many will, in the end, succumb to peer pressure and join the gang. Life expectancy for those who join a gang in Guatemala is just 22 years and so we would like to offer him the hope that he can live a very different and full life.
---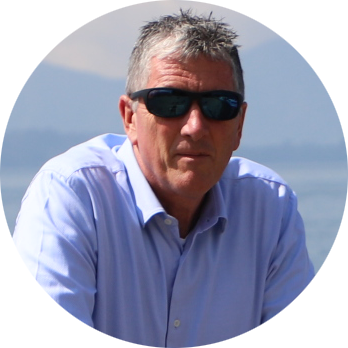 Duncan Dyason is the founder and Director of Street Kids Direct. He first started working with street children in 1992 when he moved to Guatemala City and founded The Toybox Charity. His work has been honoured by Her Majesty the Queen and he was awarded an MBE the year he celebrated working over 25 years to reduce the large population of children on the streets from 5,000 to zero. Duncan continues to live and work in Guatemala City.