Thursday 27th August 2020
---
Being officially old now (according to Guatemala´s "third age" category) I can be forgiven for forgetting a few details now and again. One thing, however, I will always remember is my first visit to El Hoyo (the hole), in Guatemala City. El Hoyo was home to around 60 young children, all sniffing glue and living in desperate conditions on the streets. That was in 1993 and one of the first boys I met was Miqueo. At around 8-years-of-age Miqueo was very street wise and together with two other boys featured in one of my photos from those early days.
I find it incredible to think back over all those years and still see him and one of the other three boys, now much older and still on the streets. However, the news came through last week that Miqueo was hit by a car and then subsequently died in hospital. I have mixed feelings about this as I have seen the damage he has caused to countless young boys on the streets. But another loss and another guy we can´t help anymore.
Over the last two weeks there has been an increase in the number of reports from our team in Guatemala City with regards to how desperate things are becoming with the majority of families we support. In short, there is a real feeling in many families that life is just coming to an end. Some share odd videos around of preachers proclaiming the end of the world or even a third world war. So, for the many children we are seeking to support, getting on with homework or even considering going back to school in January is just a dream. For now, they all have to focus on staying alive, and this is accomplished by working to support themselves and their families.
One of the boys I mentor is Brandon. He is 13 and can´t wait to be 16. In fact, he tells me, with a huge smile on his face, that someone thought he was actually 16. He has shot up over the last few months and working hard to get impressive muscles on his arms. Brandon and his family have been through their share of crisis. With government travel restrictions lifted I decided to take Brandon out for the day, allowing him plenty of time in the car to talk.
Mentoring boys means creating opportunities for them to talk in a non-threatening, and often no eye contact way. Brandon tells me about his life and desire to now work as there seems little point to him returning to school. The conversation is steered to discuss his dreams and ambitions and this leads to his promise to return to school in January (if schools are allowed to open by then) so long as I can find one that specializes in dance, music and singing – his three great passions. A challenge ahead I feel!
Many thanks to all those who have donated and enquired about Brayan and the help we have been giving him and his family to try and save his sight. Brayan, many will remember, lives in a tin shack with his mum, grandmother, two brothers and little sister. There have been many early mornings going to collect him at 5am and take him to queue with me to get into the sight clinic here that offers all manner of specialist care for people on a low or no income.
Brayan needed an urgent operation, which was a great success and he continues to suffer bed rest for a few more days and then he will be able to be up and about. He has lost the use of his left eye, but the pressure that was building in it has now been reduced together with the daily headaches and pain. I just need to collect his glasses now for his right eye and then he should be able to see all the things most of take for granted. His brother and sister are also in treatment and will need glasses and lots of after care.
The busy two weeks culminated in a desperate plea from Max, a man who is currently working on our new mentoring centre here in the city. The centre will be an exciting addition to the mentoring programme and Protection Home, with a focus on music and art therapy. The man shows me a photo of a little boy living in the street near to where he lives and asks me what he should do. The only way I can advise is to take him home later that day and see for myself and then discuss this with the team.
We drive a long way down a road that leads to one of the many satellite communities that grew up in the late 1990s, when large groups of people grabbed abandoned land and staked their claim. This community was, until recently, a narco and gang-run area of the city. The Guatemalan government have certainly helped reduce gang activity with their specialist police units that have authority to shoot to kill any gang or suspected gang member.
The little jeep fits neatly in between a bus, that hasn´t run now since March, and a small van that is making a delivery to a nearby tienda. I am obviously new and so I feel many eyes are on me. Max waits as I try and secure the little jeep as much as possible and then walks me down a concrete alley, that then leads to another and another. Eventually we are walking down a steep alley that I can clearly see has an ending and Max points to a 6-year-old boy sitting on one side.
José sits with his back to me and is wearing only a pair of shorts and trainers and picking through a chicken carcass. As I approach, I can see he is working his little fingers along the bones to scrape off as much meat as he can. He looks up at me and then back to his carcass while I introduce myself to him and to the lady sitting next to him. I notice a bag of clothes and various toy vehicles on one side and a small paper tray with chicken bones together an empty coke bottle nestled between them.
Starting to build confidence and trust becomes possible through play and José is soon running around laughing and engaging in a silly game that offers the opportunity to talk with the lady and discover a little more. It turns out that the lady is his mum, but that she does not have legal custody of the boy any more. It is also evident that she is suffering from some form of mental illness and just talks away to herself about things that make no sense at all.
The boy is obviously at risk and, as Max points out, is often found sleeping in the gutter day and night. Looking at this tiny boy reminds me of the early days when I worked with so many young children on the streets. Thankfully those days are over as there are no young children living on the streets here and have not been for the last few years. However, José does look out of place and time.
Because this is my first visit there is little I can do for now and plan to return with the street team to investigate more and explore options for José. Walking away is always the hardest bit and always leads to a massive guilt trip. My world is so different to that of José and I am sure that as the trust develops, we can do something very practical to help and see him living in a much better place.
---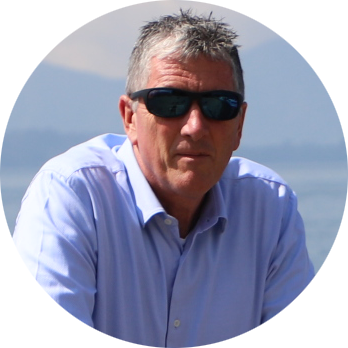 Duncan Dyason is the founder and Director of Street Kids Direct. He first started working with street children in 1992 when he moved to Guatemala City and founded The Toybox Charity. His work has been honoured by Her Majesty the Queen and he was awarded an MBE the year he celebrated working over 25 years to reduce the large population of children on the streets from 5,000 to zero. Duncan continues to live and work in Guatemala City.