Sunday 20th September 2020
---
Today I want to tell about three of the boys I have been working recently. Three boys from very different backgrounds, but three boys whose lives will illustrate where so many of our kids are at. It is not always appropriate to share on social media the type of work we do; due to the sensitive nature of the situations we work with every week. But this blog might help you understand our day-to-day work and the situations we are pleased to help with thanks to your support.
Boy number one is Jeffery, who is 12 and lives with his grandmother, auntie and subsequent cousins and their husbands and children. The little house is dark, due to daylight peeking through the door or a rear window. It is also crammed with each smaller family unit trying to guard their area which means tensions often rise and very quickly can lead to the most heated arguments.
I had just got in from a long day of mentoring and was ready to sit back and enjoy my dinner when the phone rings. On answering it I hear a child crying and quickly determine that Jeffery is calling me from the phone box at the corner of his road. I recognise the last three digits on the number and hear him crying, while trying to ask for my help. His 25cents are now coming to an end and he becomes anxious as the call is about to be cut off.
Guatemala still has daily 9pm curfews and so if I leave right now, I won´t have much time to get there and back before time runs out. I leave and sure enough, Jeffery is sitting at the base of the phone box with his head in his hands, still crying but gets up when he sees my little jeep approaching. To begin with all he can do is cry and needs a hug and I allow him time to calm down so he can tell me what is going on.
The story comes out of more emotional and physical abuse and now he wants to run away and never come back. He has a disturbing history of abuse and neglect and trusts me to always come and rescue him when things get bad. This time, seeing the blood pouring out of his nose and swollen elbow and cuts on his arms I have to make another official report and complaint. This leads to me offering his grandmother two options. She can either come with me now to the court or not come and allow me to take my report directly to the court. She realises that it would be better for her to be engaged in the process and so we head to the all-night children´s court.
Despite years of trying to help the government coordinate efforts to help support children through a very draconian legal system, where the best interests of the child are not always predominant, I get frustrated by the process every time I am here in court. A long night starts with us having to firstly explain to the guard on the gate what had happened, then to the receptionist, then to the Public Ministry, then to Social Services, then to a nurse, then to one other agency and then to a judge. The sign outside the building boasts the logos of all these agencies whilst proudly announcing they are "working together for children".
We get home at 2.30am, thanks to a special letter from the judge allowing us to travel after curfew. It is a quiet time, the only people on the road are police cars and lorries that are delivering essential supplies. Jeffery and his grandmother are now at the beginning of a long legal process that I hope will help keep him safe.
The next day is an office day, but this is cancelled due to another phone call about a 15-year-old boy who has run away from home. Another troubled boy and another situation of abuse. Every child I have ever met on the streets, and the reason they say why they feel safer living on the streets than at home, is due to abuse.
Marlon is a boy I have worked with since he was about 6. I first found him while he was working on the rubbish dump and living in conditions of real poverty. It was always a struggle for me to see the food he would rescue from the dump every day that would become his dinner that evening.
Now Marlon was missing and the stories from his mum about why he left home were all very worrying. Since Marlon is in my contact list and I know he has a mobile phone, I send him a message. He responds straight away and tells me he is safe and we agree to meet the following day.
I find out that Marlon is living with a local charity that we partner with and so it is easy to offer to visit and when I arrive, I get a big hug and a smile. We decide to go for a walk, as it´s now dark and the roads are much quieter now. For the next two hours he pours out his heart and does not stop crying and sniffing the whole time. He is clearly very wounded by the way his mum and older brother treated him together with the things his mum said out of anger and frustration.
The walk is a release for Marlon, who feels much better when we get back to the charity, only minutes before curfew, giving me enough time to get back into the Protection Home on the chime of 9pm. There is much to follow up and a subsequent meeting with the charity, then his mum, then the authorities leads to an agreement that Marlon can now live a semi-independent life as long as we and our friends in the partner charity offer him support and a study and work structure.
Tomorrow is going to be a better day as I have mentoring again and so, when home, relax into a deep sleep and prepare myself for a special time with one of the boys I mentor and his family. Due to COVID most of the mentoring I now do is with the mentored boy and his whole family. This new family mentoring is going well and it is exciting to see how engaged everyone gets in the games, discussions and various activities.
On arriving at the family the following day, I am welcomed in and given a drink of water and get hugs and smiles as the boy I am visiting and his sisters are looking with great anticipation at a large plastic box I have with me. The box is full of scissors and colouring pencils for an activity based on the theme of "blessed are the poor".
No sooner than I sit down, the mum is called for by a lady in the street and then returns to tell us that Luis is missing. Over the last three weeks the family have invited 8-year-old Luis into their tin house in order to "keep him safe" as well as participate in the activities. On week two Luis runs in and gives me a massive hug and just wants to be held while he looks up at my face and smiles. He is clearly a needy boy and there is a much bigger story here than I have time to explain in this blog.
Today, however, Luis is missing. He left at 7am to collect 70p from his aunties friend and it´s now nearly 11am and he has not been seen since. We leave behind the activity and head off to look for him. The park, as the kids call it, is nearby and we are asked to look there first. It´s not a park as you would think and access to it us through a hole in a concrete wall. It is a plot of derelict land that is a play area for neighbourhood kids who share this overgrown wilderness with dog walkers, the local gang, drug dealers and all manner of people.
Luis is nowhere to be seen and so our search then continues in the jeep as we drive around to areas the kids think that Luis has been before. His auntie, who he lives with, is encouraged to put out an alert with the police and this could bring in search reinforcements, but I doubt that anyone will do anything with the report till the following day.
Knowing very little of Luis means that I can´t guess where he would be, apart from the types of places an 8-year-old would go and hide. He is vulnerable and could quickly become a target for anyone wishing to take advantage of his sweet nature. Two hours later we have no sightings of him and so print off posters with his photo and begin to post these around the area, whilst talking to taxi drivers, police and shopkeepers.
Late in the afternoon Luis is found and comes back home to, what I can only assume, a huge lecture and maybe more beatings that probably motivated him to take off in the first place. He is another troubled boy who could easily follow in the footsteps of so many and end up on the streets. Fortunately, we have a good network and a programme in place to help him, his family and for concerned others who look out for him. I am sure that when Frank, the coordinator of the mentoring programme, visits him next week, Luis will be able to join the mentoring programme and get the support he needs to stay safe.
All this is possible thanks to your regular support. It is not often I mention money here, but when you do donate please know that it is used well to help really vulnerable kids. Thank you.
---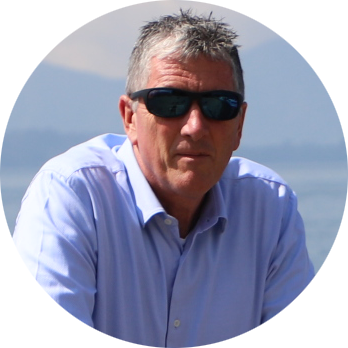 Duncan Dyason is the founder and Director of Street Kids Direct. He first started working with street children in 1992 when he moved to Guatemala City and founded The Toybox Charity. His work has been honoured by Her Majesty the Queen and he was awarded an MBE the year he celebrated working over 25 years to reduce the large population of children on the streets from 5,000 to zero. Duncan continues to live and work in Guatemala City.