Monday 26th October 2020
---
This week Joe Soden is visiting us here in Guatemala. Joe is one of the three trustees of the charity and hasn´t been out to see us for quite a long time due to the Covid restrictions.
It does help us having outside eyes to the work and Joe brings a special something along to the visit by spending time sharing with the SKDGuatemala team. Her time with us is blessed indeed and we make plans for the Radio Christmas project and the coming year.
One of the invitations Joe receives during her visit is to join me, Benjamin and Alex to celebrate Damaris´s 15thbirthday. Turning 15 in Guatemala is an important event for a girl as it marks the transition from being a girl to a woman. There is no such an event for boys, but today is a very special moment for Damaris and I am so proud of the young woman she is becoming.
Damaris has been though things that would tip most people over the edge. She is a survivor and is keen to use these experiences to help other girls who may be going through similar things. Sadly, Damaris is not her normally bubbly self and seems down despite the way her mum has decorated their room and prepared food and invited friends and neighbours to celebrate with her. Her sadness comes from the words "dad is drunk again" and then I glance around the room and her brothers and sisters are also affected by how their father has slipped back again in alcohol abuse.
It is important for us to be present at the happiest and saddest times of life for the families we work with. Being present does not mean you have answers or solutions, but it does mean you are there and that means a lot. At least Damaris knows of our commitment to her and can guarantee we will never let her down.
Later in the week we are enjoying the easing of restrictions and have invited a few of the team over for lunch. It seems a long time since we had some of the team in one place and Marcos is keen to help with the cooking.
Marcos has been working part-time with us for a while now and I am very pleased with his progress as a cleaner at the Protection Home. I have known Marcos since he was a young boy and was working very long hours on the rubbish dump in La Terminal. We worked with him, his mum and brother to help them during the toughest moments in their lives, which seemed to be every week.
Marcos is keen to be a chef one day and he will soon be 16. He is working hard to gain his school grades and is now living with a family around the corner from our home and so needed a part-time job to support himself.
When lunch concluded Marcos helped clear away and made sure no one wanted any more of the food we had cooked. He then carefully packed the leftovers into small food trays and asked if he could give it away. He then walked to the main road a few blocks away and invited a small group of people who were begging at the traffic lights. Marcos knows what it's like to live with hunger and now he is keen to help people who suffer as he did. It was a special moment in a very hard year.
---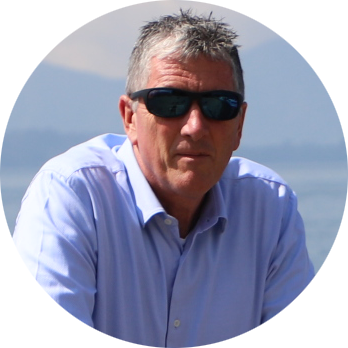 Duncan Dyason is the founder and Director of Street Kids Direct. He first started working with street children in 1992 when he moved to Guatemala City and founded The Toybox Charity. His work has been honoured by Her Majesty the Queen and he was awarded an MBE the year he celebrated working over 25 years to reduce the large population of children on the streets from 5,000 to zero. Duncan continues to live and work in Guatemala City.