Friday 26th February 2021
---
Fridays are busy days and when Moses finishes school in the protection home at 12:30pm he starts his mentoring session with me. Every week is different and sometimes we stay in the home and sometimes we go out to various places. My plans for today were changed the instant Moses walks in and tells me he is traumatised. I could see by his demeanor and the way he said the phrase that something serious had happened.
I invite him to walk with me to the local park and allow him time to tell me what had happened. After 28 years of working with children like Moses I have heard everything a person can hear and seen some of the most horrendous things that can happen to children. Already I could feel my chest tightening and my mind preparing itself for yet another challenging story. Walking is good for Moses as he always opens up more when walking or sitting in the front seat of the car while we drive along.
Yesterday, Moses was doing his part-time job of unloading melons from a lorry. The young guy he works with is very friendly and Moses tells me that he is always giving Moses small amounts of money to buy soft drinks for the workers. Moses had walked across the road to get a few cans of coke and as he was walking back a man walked up to his friend and shot him in the head four times.
Moses went into great detail what he saw and how his friend fell to the ground but continued to breath heavily for a while before he died in the street. I had to hear the same story about 8 times and each time a different aspect of the same story emerged and each time Moses felt it was easier to talk about what had happened. The death of his friend at the hands of one of the contract killers (the angels) in La Terminal left him with many questions as well as what would happen to his friend´s girlfriend and two children. He was only 23 and Moses suspects he was killed for stealing in La Terminal or doing something that the angels, and those who fund them, would not approve of.
We take a slow walk back and Moses sits on the sofa and falls quickly into a deep sleep on the sofa and so I sit with him in case he wakes up and needs someone nearby. He twitched now and again and when he woke up he wanted to be taken home so he could sleep in his bed. Life, once again, had hit him hard and I wonder how this will affect him in the coming days and weeks.
Sometimes events like these put you on hold and you forget that all around you others are also working hard to help kids and so I remind myself that I do need to be available for them also. One of the SKDGuatemala team is Amersham volunteer Benjamin Soden. Benjamin is now working full-time in Guatemala as a volunteer street worker and passionately reaches out every day on the streets to those young adults still on the streets and to children and young people at risk of taking that step to street life.
This week Benjamin travelled with Juan Carlos (JC) to the north-west of Guatemala, near to the boarder with Mexico. Here we were able to place two young children who were rescued from the streets a few years ago and who are now enjoying living with their grandmother and her family in the countryside. They are safe and well and will be studying at school in some form later this month. Benjamin and JC were able to buy them the basic things they needed for studying and donate some food supplies. Given that they will have to go to the school once a month to get copies of their work and then hand-in homework, new school shoes were also needed. Another great job done by the street team and more kids kept safe thanks to your support.
---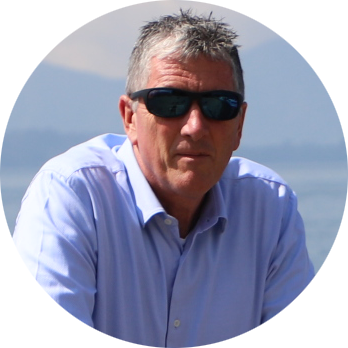 Duncan Dyason is the founder and Director of Street Kids Direct. He first started working with street children in 1992 when he moved to Guatemala City and founded The Toybox Charity. His work has been honoured by Her Majesty the Queen and he was awarded an MBE the year he celebrated working over 25 years to reduce the large population of children on the streets from 5,000 to zero. Duncan continues to live and work in Guatemala City.