Sunday 2nd May 2021
---
I was so proud of Nicolas and told him so when I managed to get in touch with him by phone and he laughed when I said we would be smoothing him with hugs and kisses when we saw him.
The following day Nicolas came to the Protection Home for his school lessons and while he passed on the kisses, he did accept a ton of hugs and I could see he felt elated. Nicolas had just achieved a 98% average pass rate in all his subjects and he was on top of the world.
In July last year I had to have a difficult and serious discussion with him about his failing school grades in the national school system. At that time there was still the feeling that school studies were not worth anything as COVID was very much a daily threat and many in his community thought the world might actually come to an end. This paradigm was fueled by many videos that were been shared in that community saying that COVID was one of the signs of the end of the world. So, you can understand the fears and loss of hope in the future by so many.
In November last year I had another meeting with Nicolas and it was with a heavy heart I had to play the card that says no education, no mentoring. I know he loves the mentoring programme and has been with me since he was 10 years of age. He is now 14 and was slipping very fast into street life again. The shock that he would have to drop out of the mentoring programme made him sit up and take notice - literally. He was lying on his bed and did not want to even lift his head. But this news made him sit up and then he began to cry.
During November and December, he committed to going to our mentoring centre every day for hours of extra school work and managed to get good pass rates for all his subjects last year in the national online school system.
Thanks to Global Care we have been able to employ two full-time teachers in Guatemala this year to run our own homeschool programme, since all government schools and most private schools will remain closed for the rest of the year.
Nicolas started with us in the Protection Home in January and only missed one day of school this term. I called him to find out why he had missed school that day and he told me, eventually, that he had no clothes to wear as the clothes he wears for school had to be washed and he had nothing else respectable to wear.
I mentioned this to a friend in the UK who sent me some money to take him out last week and buy him some new clothes. I also wanted to take him for lunch and celebrate his school results this past term. He told me how much he struggles with accepting praise and then I broke the news that we were heading to the shops to buy him some new clothes. Now he could not contain the joy and a huge smile spread across his face.
In Guatemala most kids get one new set of clothes a year. It´s a Christmas Eve tradition and those new clothes last all year and any other clothes that have to be bought, are purchased at the Paca – secondhand clothes warehouses and shops in various locations throughout the city.
We had fun looking through the cool and trendy clothes and eventually settled on jogging bottoms and a few t-shirts and a pair of trainers. He was happy, very happy and I was as proud of all the positive decisions he has taken over the years, despite the very tough situation he has had to endure as a child.
I dropped him back home in La Terminal, in Guatemala City, and opened the boot of my car to get his two bags of clothes out and huge smile on his little face was still evident. His sister came over and I could see the smile slowly disappear from his face as he rushed into the small room where they live. I knew he wanted to rush in and show of his new clothes, but now his joy was simply snatched away from him, no show of new clothes now, only more tears and disappointment.
I remained outside for a while with his siter as I knew what would great me as I entered into their room. His sister didn´t want to talk, but just held onto me and cried.
Eventually I walked with her into the room to find the dad drunk and lying almost naked on the bed while the mum looked at me and tried to smile. Her swollen face and red eyes told me all I needed to know and I reached out with my arm to her shoulder. This simple act made her whole body just crumple. She sobbed and said it was hard to keep going like this and was trying all she could to provide for the five children and wanted to make sure none of them ended up on the streets.
Telling women that they are not to blame for domestic abuse and that they have the power to do something about it is not easy in this culture, but eventually she said she would begin to look for an alternative place for her and the children to live. I expect, like we have done for so many, we will have to find the funds to help support the family over the coming months, if not years. But the alternative is much worse.
---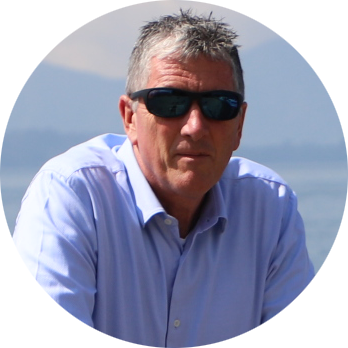 Duncan Dyason is the founder and Director of Street Kids Direct. He first started working with street children in 1992 when he moved to Guatemala City and founded The Toybox Charity. His work has been honoured by Her Majesty the Queen and he was awarded an MBE the year he celebrated working over 25 years to reduce the large population of children on the streets from 5,000 to zero. Duncan continues to live and work in Guatemala City.