Monday 24th May 2021
---
Today is the happiest day of my year so far and also one of the saddest!
I need to give you some context to this story and so will take you back a couple of weeks when one of our boys was moved into the Guatemalan "care" system. We had been expecting a move for him from living with a family member to going into a private children´s home, but circumstances led to him being placed into the government system – something even the judge was trying to discourage.
Once in the government home we tried all we could to gain access to him to ensure his safety and wellbeing. He had suffered enough before going into the home and so we didn´t want him to go through more pain now he was free from family violence.
Last week, however, I managed to gain access to visit him in the government home and so set off for the centre of the city where the home is situated. On arrival I gazed up at the 10-foot wooden doors and that looked like they were built to defend against a marauding army. The walls were very high and the windows covered in dirt and protected by heavy iron bars. Not the sort of place that makes you feel welcome, but rather to make you feel small and intimidated.
I ring the doorbell and wait in the street as the two lanes of traffic thunder by. Eventually to door opens a little and a lady asks who I am what I want. I explain that I have an appointment with the boy and she tells me to wait there and closes the door rather quickly and then bolts and locks it. A few minutes pass and then she opens the door again and tells me, in no uncertain terms, to step on a disinfected doormat, apply gel to my hands to fill the visitor book with my details while she checks my temperature.
There is an inner iron gate that is securely locked and I am now taken through the gate and into the Director´s office. The Director is in a meeting with a staff member and points to a chair in the corner. I therefore assume that he wants me to sit there and so I comply as I want to make my visit as easy as possible so that the boy has no repercussions when I leave.
After about 30 minutes I am joined by one of our team who heads up the education of all the high-risk children we are homeschooling this year. We are then, after another 30-minute wait, led into a room to see the boy. He is sitting at a table in front of a staff member who is supervising the visit. It is clear he is extremely distressed and checks to see if the staff member is watching before replying to any of our questions. It awkward and uncomfortable for us all.
After some initial conversations about his week, I ask to use the toilet. The plan works as the staff member asks the boy to take me to where the toilets are. The short walk across the courtyard and back gives me precious moments to try and understand how he is doing. He can´t say much and just says that he wants to get out and is praying to God to stay alive and is thinking of escaping if he has to stay there much longer.
He is not the only boy in the home who must feel this way. There are 25 boys here today and only three of them have visitors/family who come and see them. The home is designed to temporarily house boys who have been rescued from abuse and the maximum stay is three months. However, some of the boys have been there years as there are no other options for them and I expect will languish there until they are 18.
The walk across the courtyard allows me time to evaluate, to some degree, the state of the place. The house is built in the Spanish colonial style. A central courtyard and then rooms all around the it for eating, cooking, sleeping and relaxing. The boy tells me that there is not much of any of those things and points me to a small door where the toilet is situated. The floor is wet and has wet underwear piled up next to the toilet. There is no sink or soap, rather a communal sink for washing. I try and dip a small bowl into the murky water and hope that I will find cleaner water below. No such luck.
I have to almost crawl back out under three heavy ladened washing lines. With little actual sunlight available here it is doubtful any of these items of clothing will actually dry. We walk back across the courtyard where several boys are lying on the ground, two playfighting and one boy trying to communicate a need he has. No one understands him or his hand gestures and so ignores his pleas for help. He walks around hitting the concrete pillars and then walks back and forth while bobbing his head up and down. It is all rather distressing to be honest.
We sit back down and the conversation can´t be deep or meaningful with a staff member intervening when the boy tells us about the home and the food. He asks me how long he will be in the home and I can´t give him an answer as we are stuck in the system and are trying all our contacts to find him a great children´s home. He starts to cry and says he can´t live like this for much longer and pleads with me to help.
Saying goodbye is hard, so hard that I find it difficult to contain my feelings when we eventually are allowed to leave and return to the sunshine in the street. I return to my room in the new mentoring centre and retreat into a time of quiet and solemnity. Some days are just so hard you would not believe it. This work is not for everyone, but I am glad that we have a team of people now looking for solutions.
Today, the solution came and I was just thrilled to get the call from an amazing, loving, Christian children´s home on the outskirts of the city. They would take the boy and had already filed the papers with the court and were waiting for the judge to approve his release and new home. The waiting was nerve-racking and then eventually I was given the green light to go and collect him from the home and drive him to the new home.
The boy knew nothing of this and when he was told he would be moving into a new home he thought the worse until he walked past the office in the home and saw me. He packed his few things and gave me the biggest hug ever. I whispered to him that he would be safe now and the smile that came on his little face never left the rest of the day.
The new home had sent their social worker to help with the paperwork and ensure his release into our care. She now takes the lead and we follow in my car. The journey will take about 45 minutes and so the boy sits close to me and starts to tell me how happy he is and asks me about the home he is going to. It´s all good news as this is one of the very best homes he could ever go into. I am so pleased for him as I know he will thrive there and he keeps commenting on being free and seeing the sun.
I am finding it hard no to burst into tears the whole journey. Not that crying is bad, but I fear I will lose it and not be able to follow the car leading me to the home. There will be time for tears later I tell myself.
The boy tells me how he survived for 20 days in the home. He was clearly distressed the whole time and was extremely ill for three days due to food poisoning. The staff said he would have to wait till the weekend was over to go and see a doctor. His description of the food was enough to put me off eating for the rest of the day. He explains the rules of survival in the boy´s home and how boys had taken out the small blades from the pencil sharpeners and carry them around for their own safety. He had no pencil sharpener and so managed to borrow a blade to form a sharp point on his toothbrush, which he could then take to bed with him. He tells me that he wanted to stay alive and asked God to keep him alive till we came to rescue him.
On arrival at his new home, we are greeted by 5 staff members who come and surround the boy and tell him this is his new home and that he is most welcome. We are taken on a tour and some of the younger boys come and say hi while others are clearly having fun playing on trampolines, slides and kicking around a football. It is just like a real home and the staff are loving, affectionate and caring about the boy´s overwhelming sense of new freedom.
I have to walk the staff through a short history of the boy and two are in tears by the end. They promise to offer him the best care he could ever have. From the years of knowing the home and its excellent reputation I know he will be very happy there. More than happy in fact.
The drive back home is filled with real joy until my mind goes back to the 24 boys still in the previous home. There must be more we can do I wonder. For now, one is safe and loved and will have to get used to being around people who won´t beat him, won´t shout at him and won´t put him in places of risk. I know that if we hadn´t of intervened early on in his life he would certainly be on the streets or in the children´s prison or worse by now.
I am thankful, happy and can just imagine what his day will be like tomorrow. He will certainly be excited to have the freedom to walk into the spacious grounds and enjoy the sun again.
---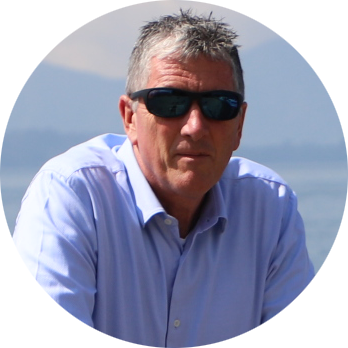 Duncan Dyason is the founder and Director of Street Kids Direct. He first started working with street children in 1992 when he moved to Guatemala City and founded The Toybox Charity. His work has been honoured by Her Majesty the Queen and he was awarded an MBE the year he celebrated working over 25 years to reduce the large population of children on the streets from 5,000 to zero. Duncan continues to live and work in Guatemala City.