Monday 21st June 2021
---
HOW IT ALL BEGINS! It is simple, as a good friend said to me many months ago, it´s either school or streets! Mark Balfour, a missionary volunteer with Street Kids Direct here in Guatemala, was reflecting over the situation we faced to either leave the kids who are in the mentoring programme in the national school system or to homeschool them all. We decided on the later, thanks to Global Care and Rotary USA, and have seen the massive impact this has made on their lives.
There are many children in Guatemala, however, that are struggling to keep up in government-run schools because they have limited access the online education system. The World Bank has highlighted the fact that school closures in Guatemala have had a negative impact on 87% of all children with an alarming 106,000 children dropping out of the school system last year alone.
When children don´t go to school this translates into a series of compounding consequences that include fewer educational opportunities later in life, worsening health, early sexual relationships and pregnancy, recruitment into gangs and an increase in child labour, to name a few. In order to keep more kids away from the temptation of street life, we need to invest in education and this comes from someone who struggled so much in the comprehensive school programme in the UK during the 1970s. I know from personal experience the impact that not having access to and support in the education system can have.
On Sunday I was with a group of children in a slum area we work in Guatemala City and sat watching 8 children trying to do their homework. Like many high-risk children, these young students have struggled to access their online schoolwork, but are determined not to fall behind and press on despite the frustrations of having to share one phone between two families that has only two hours of internet access.
I sit and watch for a while and admire their perseverance. The home is a tin shack, large in comparison to many others nearby that all cling to the side of the mountain in what was land-grabs many years ago. Most don´t have papers for their land, but still the electric company has been able to connect many to the grid. Well, for those who can afford it.
The home is always welcoming and the family always excited by my visit. I often think about how hard it is for them all to just exist, let alone get ahead in life. The dirt floor becomes a home to the various bugs and dirt mites and the fumes that fill the place from the cooking stove make for a few hours of scratching and coughing.
I am asked to help with the youngest boy who almost dropped out of school last year and has now lost all interest in schoolwork as it "is too hard for me and no one explains anything". All he has to do is to copy out four pages of handwriting, but his concentration is low and so I have to turn the whole experience into a game and challenge to see if he can do better than me. The challenge is accepted and all four pages are completed in half an hour.
The 12-year-old boy asks if he can talk with me outside and so, when homework is completed, we sit on the steps and look down into the ravine below. I still find it hard to believe that people have made this place into homes and, as the years go by, I see them turning this into a developing slum that has views that many in richer areas would pay a lot to enjoy daily.
Marcos is very affectionate and as soon as I sit down, he snuggles his head into my neck and sits quietly for a while. I ask him who he thinks cares for him and he tells me no one. It is easy to point out how hard his mum works and I know she loves him very much. He smiles and then says that with me there are two people who care for him. Marcos remains quiet again and we just sit there for a while enjoying the almost unbroken silence and then move on to talk about all that is going on in his life.
His mum had already told me that he had voiced his frustrations with her about living in poverty and that no one loved him and talking about if life would be better if he left home and went to the streets. When I say streets, I am sure he was not thinking of living on the streets, but rather finding work and just doing his own thing. Many boys I work with have similar thoughts and some do actually end up on the streets and this is what we are working so hard on to prevent.
At times, the numbers of children in similar situations or who come from abusive homes is rather alarming. As I climb back up the 80 steps that lead back to the road at the top of the ravine, puffing away as anyone would after a steep climb, I meet a mum who asks me to help her son who is very "street connected". She tells me he now does his own thing, doesn´t obey her, is starting to do things that can put his life in danger and could I help him.
No sooner than she finishes her sentence the boy walks around the corner. He is 7 and smaller than most his age. He has that street look and feel about him and I can tell he is a kid who would benefit from the mentoring programme. But how can I take on more kids at the moment? The growth of the programme has always been held back by the lack of male mentors. It seems extremely difficult to find men who can commit to a weekly meeting with a child. I know I can´t just leave the child to begin that journey towards the streets when I know we can act now and make a difference.
Next week I have to return to the UK for my second vaccine and to organise some fundraising events. The time away will give me some emotional distance and space to think and pray and see if there is a way to help those boys. At least, I think, we can find the money to buy a larger table and some chairs for them to study more comfortably and effectively. My gut reaction is to move there and start another mentoring centre for high-risk children, now that my work with the new mentoring centre is coming to an end. However, for this time at least, I will be patient and see how things are when I return there in August. Patience has never been my best quality!
---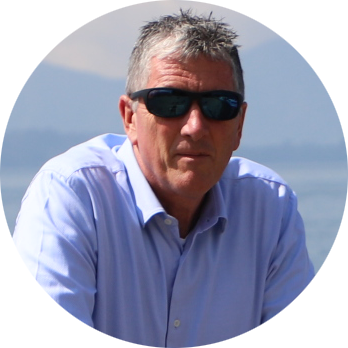 Duncan Dyason is the founder and Director of Street Kids Direct. He first started working with street children in 1992 when he moved to Guatemala City and founded The Toybox Charity. His work has been honoured by Her Majesty the Queen and he was awarded an MBE the year he celebrated working over 25 years to reduce the large population of children on the streets from 5,000 to zero. Duncan continues to live and work in Guatemala City.