Wednesday 8th September, 2021
---
This week was a tough one for the team as we seemed to hit one of those regularly occurring lows when bad news comes in abundance.

Carlos, one of the boys we have supported, mentored, protected, loved and cared for since he was a small child, was going through a difficult time. He had been rescued from the streets, again, and had been through rehab and was doing well serving in a project in the countryside, helping vulnerable children. Then he had another blip and so went back into rehab. He is now 18 and so is treated as an adult when emotionally he is so much younger.
We got the call early yesterday that his mum had passed away and so now needed to go to rehab and pass on the news. It was not going to be the best of moments and Benjamin Soden and I headed to the home and discussed how our fears that this news could tip him over the edge. Benjamin had been working hard to help his mum over the last few weeks and had actually taken her into a rehab centre. Sadly her drinking and other behaviours had left her weak and with little time left to live.
The drive to the rehab centre seemed longer today and I was keen to get to know the new rehab option we now have for those leaving the streets. Over the years we have struggled to find a rehab centre that does not beat those in the programme, abuse them in some way or just leave them for hours with little attention or food.
On our arrival we are met by the Director who does not know we are coming. The immediacy of the situation was clear when we explain that Carlos´ mum had passed away a few hours before. He goes off to find Carlos and returns about 10 minutes later and Carlos is already crying. I assume that the Director had told him and he hugs us both and then sits down to talk.
It is clear he is distressed and keeps looking around at the Director and the intimidating person standing guard at the door rattling keys. I can see in his eyes that he is deeply sad and so pull my chair up so my knees are touching his and hold onto his hand for a while. Carlos starts by telling us that now, more than ever, he needs to remain strong for his little brother and sister and do all he can to get through rehab so that one day he can take care of them.
I admire Carlos so much. He has been through things that most boys would never even imagine experiencing. In his 18 years here on earth he has seen the best and the worst of mankind and his eyes have witnessed numerous murders, rapes, assaults and abuse in all forms. Despite all the world has launched so cruelly at him, Carlos remains humble, thoughtful, patient and hopeful. I am, of course, very proud of him and all he has achieved in his life and know he will go a long way if he can get through this difficult stage.
It is then that Carlos thanks me and Benjamin for all the help we have given him, his family and particularly his mum. He tells us that he is now hopeful that his mum will recover in rehab and maybe one day they can all live together again. I am frozen for a moment and look at Benjamin. It is clear that he doesn´t know his mum has passed away and so I hold onto his hand again and open my mouth. Carlos looks at me and sees the tears in my eyes and knows something is coming.
I am struggling to speak and the tears are filling up in all our eyes and now he knows something bad is coming. He looks just so distraught, lost, in pain and in shock. I come out with the words that we did all we could but that his mum passed away in the early hours. I could not get anything else out as we are all crying now and Carlos is weeping profoundly and calling out for his mum. It is one of the hardest things I have ever done.
Later that day we head back with him to the Protection Home and his little sister, who is in a children´s home, joins us and both ask if the younger brother knows. Their brother is now 13, but looks 11 and is currently being held in a children´s prison not far from the home. We have to contact the prison and they inform us that we have to send in an email and that the minimum wait for a reply is 8 days! At the time of sending this we still haven´t been able to get an appointment and he still has no idea that his mum has died. It all seems so hard and cruel.
The following day is the funeral and only 10 people are allowed into the cemetery, plus me as "the Pastor". It is very difficult to imagine how the children are making sense of all this as we walk for 15 minutes behind the funeral car before arriving at the place where their mum will be laid to rest.
The cemetery is almost full and with so many dying on a daily basis from COVID it was a miracle that our funeral agent was able to get a slot for today. I say funeral agent like it is normal for a charity to have one! We are told we have 5 minutes before the forklift comes and takes the coffin and raises it to the place in the wall where her body will rest. The 5 minutes turns into 15 as the previous funeral gathering are struggling to brick up the wall where their loved one is now resting.
I say some prayers and Carlos joins me in telling everyone that despite all her faults she was still his mum and he loved her very much. He opens the glass viewing lid of the coffin and bursts into tears, which makes everyone cry loudly. He calls out for her not to leave him and tells her that we will try and tell her youngest son as soon as we can that she is no longer here. Carlos´ auntie faints and is comforted by family members as the forklift comes and takes the coffin away and places it into the hole in the wall. A member of the cemetery team is now trying to sell everyone photos and another is offering a deal on a plaque. It is all quite surreal and distressing and we take time to walk back and meet those outside who were not on the list of 10. One of her friends is clearly very drunk and does not seem to understand the pain Carlos and his sisters are in and how her shouting and laughing is really not helping.
We return to the Protection Home and are so grateful we have a place we can offer the children. It´s a great place to stay the night with lots of love, comfort and care while we explore options for Carlos in finding another rehab centre.
As if the trauma of the last 24 hours was not enough, the time back in a safe place allows Carlos a safe environment to talk about how the "Christian" home are treating him. He does not want to return there, but feels he should in order to try and help the other two boys we have placed there recently and to do all he can to keep them safe.
He tells us about the amount of physical abuse going on and of an environment where patients are encouraged to beat each other as both discipline and also to remind them that rehab is hard! It is quite unbelievable to hear this and Benjamin and I feel hopeless. Carlos tells us that it is all a show in order to get money and that they are all bad people and to please find him another place so he can recover, then leave and help his young brother and sister.
It´s another day where I feel hope is eroding and the slightest things brings you to tears. Both Benjamin and myself are very close to breakdown as this situation is just another on top of many others we are dealing with. However we feel God close and try and reach out to hold onto the truth that he is there and will help us through this and, at the same time, hoping the phone doesn´t ring with another need, death or abuse case.
---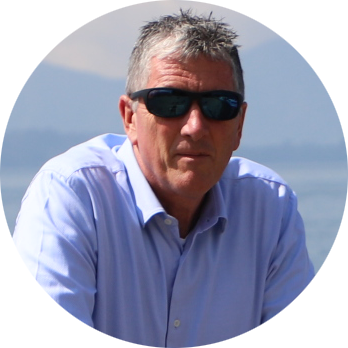 Duncan Dyason is the founder and Director of Street Kids Direct. He first started working with street children in 1992 when he moved to Guatemala City and founded The Toybox Charity. His work has been honoured by Her Majesty the Queen and he was awarded an MBE the year he celebrated working over 25 years to reduce the large population of children on the streets from 5,000 to zero. Duncan continues to live and work in Guatemala City.