Saturday 4th September, 2021
---
I am starting to wonder what the outside world is looking like! It seems ages since I was actually out in the sun and also out of the city. Things have been busy with the opening of the new mentoring centre and the daily work inside the building has meant that I now spend very little time outside the house. I know this is now coming to an end as the centre is almost complete and being run by two amazing volunteers who will, together with our resident young Fredy, take good care of things.
Benjamin had invited me to join him and Juan Carlos on a three-day trip to San Marcos, a city in the North-West of Guatemala. It is here that two adorable children, who were rescued from the streets three years ago, are now living.
Benjamin is excited and can´t stop talking about how the kids have settled in, how they have changed and how loving the family are who are caring for them. He also points out that the six-hour drive there is just part of the amazing experience and how I will be blown away by the views of the mountains, rivers and the sheer beauty of the countryside. He is not wrong.
We head away from the city, leaving early enough to avoid the morning traffic and begin to enjoy open roads and superb views of the slowly rising sun bursting through the mountain range and, now and again, between volcanoes. It is truly breathtaking.
Benjamin has made this trip many times before and is committed to keeping in contact with all those who have been rescued from the streets. In the last week, five have been rescued and are now in rehab. He seems to be on a roll and we soon arrive at the point where he always stops for a packed lunch. Everything is prepared in his car and we enjoy some sandwiches, crisps, fruit and hot tea. It can´t get much better as we look out over the mountain range and remember what life was like for the two children we are about to visit when they spent their early years on the streets.
Eventually we make it to the little village where the children are now living and the mum, who is caring for them, is waiting to meet us and finds us a suitable place to leave the car. As I step out of the car the heat hits me but also the absolute quiet. It is such a peaceful place and everyone you meet has a really neat way of saying hello. Here, very few speak Spanish. The regional dialect is Mam and respect is everything. When you meet someone you say hello and then put your hand to your forehead to show respect and honour for the person you are greeting.
We unload the car with a ton of clothes, shoes and food supplies. It seems that Christmas has come early and we are soon sitting outside their little tin shack and talking about life. The two children come and stand before us and just smile. I am bowled over by the transformation. When I last saw them they were in desperate conditions on the streets of La Terminal and we knew we had to act in order to keep them alive.
Nicole is seven and Cesar, her brother, is now five. They have adapted well to life in the countryside and who would not adapt well to being with a family who actually love you, bath you, put clean clothes on you, play with you and treat you like you are worth more than all the gold in the world. This family are just perfect and are actual family to the real mother of the children. It is rather unusual in this rural context that a family living in poverty have been so keen to take in these two children, but they have and the kids love it there.
We handed over food parcels and also handed out clothes and shoes. Benjamin and Juan Carlos had chosen extremely well and all had new shoes and the kids had new coats for the coming winter. It was a very special time until we heard the news that the children´s real mother and boyfriend visited a couple of months ago and spent a week or so there. They were obviously upset that the children they had lost custody of were now calling other people mum and dad. It came to a head when they decided to take a leather belt to the children, telling them that they had to call them mum and dad. Fortunately the father of the family intervened and protected the children and they are hoping they don´t return.
We are just happy that they are not on the streets and can enjoy a very loving environment in which to grow up. Change is possible and it is comforting to see how happy everyone was with the most simplest of things.
---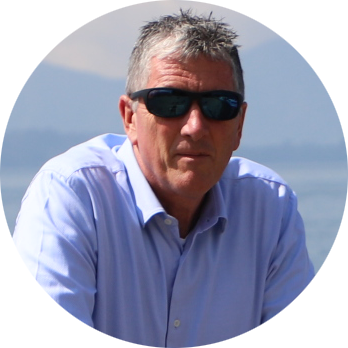 Duncan Dyason is the founder and Director of Street Kids Direct. He first started working with street children in 1992 when he moved to Guatemala City and founded The Toybox Charity. His work has been honoured by Her Majesty the Queen and he was awarded an MBE the year he celebrated working over 25 years to reduce the large population of children on the streets from 5,000 to zero. Duncan continues to live and work in Guatemala City.