Sunday 17th October, 2021
---
There is an Arab proverb that says that the weight of a straw can break a camel´s back. What it refers to is the overloading of a camel can lead to the camel not moving or even collapsing under the weight. We get the phrase "the straw that broke the camel´s back" from this ancient proverb. It means that just one little thing can bring one down to a point of surrender or collapse due to the accumulation of events and circumstances.
I begin today´s blog by saying that my plan this week was to tell you the story of Seidy, a young mum we have got to know recently. Her story is quite inspiring and my hope was to encourage you rather than tell you that life has been tough again.
After spending a day with Brandon yesterday I also wanted to write a blog about him, as a case study, as I think his life is quite inspirational and illustrates perfectly the work we do here in Guatemala.
Both stories will have to wait as I have to talk through the challenges of this past week. For it´s in the talking (writing this blog) that I find some sense of healing, off-loading and a greater gain in perspective. So bear with me as I express how just one more thing this week would have broken the camel´s back.
The week had started well as a £500 donation came in to help towards the monthly payments for supporting the kids in Guatemala and Honduras. We had a full week planned to celebrate the closure of official school studies for the year and to invite the girls over to the Centro Opp mentoring centre for a special day of activities. I was particularly looking forward to that as I miss working with the girls as so much of my time now is working with boys.
Then we went to visit one of the boys in the programme who has been growing in confidence recently and even looked taller because of it. His confidence was based not just in doing so well this year in school with us, but that his dad was celebrating two months of being alcohol free and was bringing in money to support his family and they were eating 2-3 meals a day.
On arrival the boy was different and I could guess why. Within minutes of arriving at his home, his dad appeared in the alleyway and was clearly very drunk. The boy looked just so lost, so empty and looked into my eyes and just burst into tears. He held onto me and cried into my shoulder and a deep sense of childhood loss was felt by both of us.
Getting home that evening and sitting with a hot mug of tea while reflecting on the day was a small comfort. I closed my eyes and just allowed my head to flop back into the chair for a moment only to find that when I opened my eyes again Juan Carlos was standing before me. Juan Carlos and his wife Heydy runs the protection home and he also helps with the street and prevention work. I often joke with him that he reminds me of Cato, the character from the Pink Panther films, who just appears from nowhere and always in silence.
Juan Carlos wanted to inform me that one of the boys we had helped get off the streets, and who was doing so well in rehab, had decided to give up the process he was going through and head back to the streets. It was a major blow as we have worked with him since he was 7 and have been with him through the most difficult situations in life. It was another blow to an already overloaded day.
I woke the next morning with a clearer perspective that life could be better this week as there was still so much to be joyful about and to look forward to. Then the call came through that one of the young men we have worked with and supported over the last few years was found dead in the streets. The call triggered more calls and messages to find out what had happened and so see how we could help.
When we raise money in the UK or the US for our work here, I never want to tell people that some of the money we have to use to bury people. Not that we want to hide the fact, but that it becomes hard to remember the many we bury every year. Every life lost is a reminder of the times we have tried to help and how the "if only" statements start to make you feel inadequate and that you could have done more.
Jonathan was dead and now we needed to find a way to reclaim his body, contact his family in Honduras and find funds to cover the costs of yet another funeral. It turned out, as security footage later showed us in all it gruesome detail, that he was killed by blow to the head while he slept in the streets. Where he died was in no way a wakeup call to those who continue to live there.
Later that evening I visited the spot where he died and spoke to the guys on the streets, all of whom showed the usual signs of complacency at yet another death. But at least they had marked the spot where he died with a few candles and were all asking if they would be allowed to the funeral. I said I would inform them of this in the next 24 hours, as most people are buried here within 48 hours of their death.
Jonathan´s family had now been informed and were on their way to Guatemala City to identify the body and help with the funeral arrangements. We have a funeral company that deals with all our funerals and they are excellent at working the system and allowing us to reclaim bodies and prepare them for burial. It is not a great experience to be honest, but someone has to do it.
The following day the team work hard at getting the paperwork in place, welcoming Jonathan´s parents and sorting out his funeral. It is not a great day to be honest as we get a call to tell us that Amanda´s baby has died.
Amanda has grown up in poverty, neglect and abuse. She was very happy to be pregnant again. She and her boyfriend, David, were telling me just two nights ago how excited there both were about the birth of their second daughter. I lay my hand on Amanda´s shoulder and smiled as she rubbed her tummy and said that in 3 weeks the baby would be born and they were having fun thinking of names for her. Most things seemed to be in place despite them living in desperate poverty. Little did we know then that the baby was already dead inside her.
Later the following day, while we were dealing with the arrangements for Jonathan´s funeral, she began to experience severe pains and her boyfriend rushed her to hospital. On arrival it is hard to get into emergency if you don´t arrive in an ambulance. Arriving in a taxi means you are not treated the same and the huge gates in front of the emergency entrance are not flung open wide to you.
David desperately pleas for help from the security guard, who has seen everything and has probably grown very hardened to people just turning up and asking to see a doctor. Amanda is now screaming and a few seconds later falls to the ground and gives birth to a dead child in the street outside the entrance to the hospital. The chaos that ensues only adds to their distress and sense of loss.
Dealing with the aftermath is not easy and David needs lots of comforting. Amanda is now in hospital and the family are concerned for her health, especially given the state of her health and the state of the hospital already collapsing due to the number of COVID deaths. David asks for help as the hospital don´t want to allow him access to the baby, as babies born premature are just disposed of, "like other hospital waste". David is keen have his daughter and to bury her.
Thanks to our amazing funeral company, yet again they find ways to get around the system. We are able to recover the body and organise the wake and funeral. Both funerals are now the following day at 9am and I know that both will be hard to cover with team as we already have several other things planned that will be hard to move around and some are away from the city.
Jonathan´s family take the decision to head back to Honduras and leave us with the costs and, much to our surprise, decide not even attend their son´s funeral. David, on the other hand, organises a wake for his daughter and we visit later that evening to comfort him and the few family members gathered in the funeral home. The coffin is placed in the middle of the room and I am asked if I want to pray and also if I would like to see the child. I say yes to the first and pray with them all and offer whatever comfort I can.
The picture of David and his daughter was a glimpse into the loneliness I guess he was feeling. His girlfriend is fighting to stay alive in hospital, his dead baby lying in a coffin behind him, and he is trying to find the words to comfort his young daughter whilst still dealing with the death of Amanda´s mum just a few weeks ago.
It is in the most difficult of times that being present is enough. Words just don´t do it. Paying for funerals helps. But just being there, alongside, makes a world difference. Your support means we can do just that. We made it to Sunday and are hopeful that this week will be one with fewer straws.
---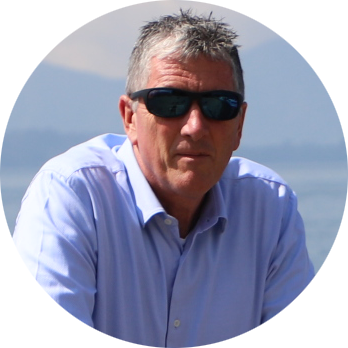 Duncan Dyason is the founder and Director of Street Kids Direct. He first started working with street children in 1992 when he moved to Guatemala City and founded The Toybox Charity. His work has been honoured by Her Majesty the Queen and he was awarded an MBE the year he celebrated working over 25 years to reduce the large population of children on the streets from 5,000 to zero. Duncan continues to live and work in Guatemala City.