Tuesday 22nd February 2022
---
There are certain people and situations that never leave your mind. This might be something fun, like a memorable birthday or wonderful surprise, or it might be a trauma or a difficult situation like the loss of a loved one. I think about this as I can´t get out of my head the night I spent on the streets last Thursday and then the emotion of that evening came flooding back last night when we walked the same streets and met many of the same people. But two young children were missing.
The night in question was last Thursday and I had been in Venezuela for a few days at this point and was acclimatizing to the situation and change in the Spanish accent, with new words and phrases that I will be taking back to Guatemala with me tomorrow. I do want to write more about Venezuela in a separate blog when I have returned to Guatemala and had time to think and reflect on all I have seen here.
I am invited to join the Victory Home on their weekly outreach to a local park. The Victory Home is the place I am staying in and was founded by David Wilkerson, from the book The Cross and the Switchblade. His ministry to reach people on the streets has impacted thousands of lives around the world and so I knew it was going to be an experience to stay in the home for 10 days.
The home is situated in the centre of Caracas, the capital of Venezuela, and is split into two smaller units on two floors, one for men and one for women. Obviously I am staying in the 6th floor where the men are housed and kipping on the floor of the pastor´s apartment in the home. It is all very simple and you can´t get away from the constant sound of people praying for those who have recently left the streets and are going through withdrawal. It is a humbling place to be and the screams that woke me at 4am this morning remind me that withdrawal is not the most comforting of processes.
The men have prepared avena - a milk and porridge mix, to take with us to the streets along with bags of bread. Each one has the most incredible story to tell of their time in the streets and how the Victory Home has helped them get through the rehab process. We are joined by three women from the church situated on the ground floor and head off around 9pm to walk the 20 minutes to the park.
On our arrival the team begin to fan out in the park and greet every single person they can find and tell them that in about half an hour we will be serving porridge and bread and they are welcome to come and join us. They also say that a special visitor is here to share with us something of his life. I am given a few minutes notice that this visiting speaker is me!
I am focused on a young man called Daniel who is sitting on the short concrete edging that separates the barren grass from the path. Daniel (right in photo) is sitting with two other young people and has a syringe in his right hand and is slowing injecting heroin into his leg while, with the left hand, is trying to handle a lighted cigarette and a pipe for crack cocaine. This is serious drug use. Daniel is 23 and invites me to sit next to him and try and grab some of his attention while the last bit of heroin is injected into his thin leg. He removes the needle from his leg as the blood runs down into his sock and shoe. He rubs the leg and concentrates now on the crack cocaine pipe and engages me in conversation about his life and desires to leave the streets one day.
The team are gathering the people together for my message and a group of about 30 young men and women gather, including two families who, to be honest, are more interested in the porridge than hearing from me. Daniel comes over and sits near me and asks those near him to be quiet as the pastor introduces me. As I walk over to an elevated piece of ground I still have no idea what I am to say, but something amazing happens and am encouraged that everyone is deadly silent as I talk about pain and how much of my life has been one of pain. This leads me to explain how God changed my life and helped me cope with pain and what hope there is for each of us to make the decision not to live with pain in our lives.
My message seems to go down well and all clap at the end and we pray for the food we are about to receive and then everyone queues for the porridge, disappearing afterwards to various parts of the park while I notice two young children and, as I do so, my mind is instantly back in 1993 when I saw similar situations in Guatemala.
When you meet a child who is living on the streets it is very clear right away how they will react towards you and what you do in order to build confidence and trust in a short period of time. The images of young children, scantily dressed and looking lost and bewildered is something we don´t see much now in Guatemala as we have worked hard to get the population of such children down to zero. Here in Venezuela the situation is still a reality and I am here to see for myself how big of a problem it is and if we can add value in any way.
The children are Luis, who is 11, and his 9-year-old sister Rebecca. Luis is more engaging than Rebecca and I ask if I can sit next to him and show him some pictures. He engages well with me in conversation about the children I work with in Guatemala and can see how we are helping children like him and his sister. The conversation leads to him telling me a little of his life and his desire to get some porridge and take to his mum, which I later learn is non-existent. This is arranged and he disappears for a while and then returns and asks me to sit next to him on the wall of the non-functioning and empty water fountain.
Luis is small for his age, like so many on the streets. He is skinny and wearing long wooly socks, no shoes, a pair of very dirty shorts and a polo shirt. His skin is dry and grubby and has those lines around his neck and wrists that tell me he has not had a wash or shower for many a week. He is shy but asks me to talk with him more about the work I do and this leads to a short game we play with kids to help break the ice. He is trembling from the cold and it´s not the cold of the evening, but more the cold of hunger that is fueling his trembling. I don´t know him enough to offer him a hug and so we are left facing each other and talking about what we could do to help him and his sister.
At this point his sister appears and I try and engage her in conversation, but she ignores me. She is wearing a dress that looks like it was rescued from the rubbish and worn more times than anyone who made would have guessed. In her hand is a chicken bone that still has some meat on it and she pushes it into Luis´s face and asks him to take a bite, which he does with pleasure. She then skips off into the darkness surrounding an area of the park where you see the intermittent lighting of a crack pipe that illuminates the face of the person trying to see if their new high can be as good as the last. But we know it never is.
Luis and I discuss the situation of his life and his interest in coming with us to the refuge tonight with his sister. The pastor now joins us and spends time with Luis while I wander around the park and pray. The night is almost a new day now and the team are gathering up the cups and rubbish and saying goodbye to all those in the park. I join them in saying my goodnight and wishing them well and then join the pastor and my last chat with Luis before he heads of to find his sister and do what most are doing there and my heart breaks for children so young who are living in such desperate conditions.
Just before Luis leaves he allows me to take a selfie and wishes me well. He wishes me well! The whole evening is a tough but rewarding experience and introduction to the work of the Victory Home in Caracas. We all hope that follow up visits will help open the door to rescue Luis and Rebecca, but for the moment we are pleased that Julio and "Chino" have agreed to leave the streets and walk back to the refuge with us. Some light penetrates through into the darkness of the night and going to sleep that night is not easy.
---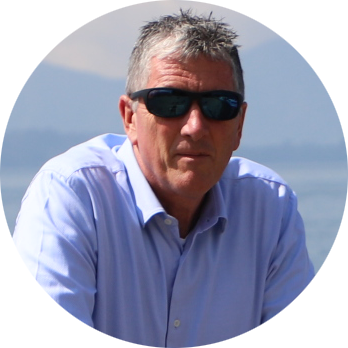 Duncan Dyason is the founder and Director of Street Kids Direct. He first started working with street children in 1992 when he moved to Guatemala City and founded The Toybox Charity. His work has been honoured by Her Majesty the Queen and he was awarded an MBE the year he celebrated working over 25 years to reduce the large population of children on the streets from 5,000 to zero. Duncan continues to live and work in Guatemala City.