Friday 17th June 2022
---
It is always an adjustment coming back to Guatemala after being in the UK and what better way to help me with the adjustment than to head to La Terminal to visit old friends and see how everyone is doing.

My last five weeks in the UK have been amazing and I took the decision to not rush around the place booking meetings, meals, assemblies and presentations like I would normally do. This time was more of a strategic time with some friends to explore the way forward for the charity and to relax, walk, recover and spend time listening to God.
The sun is now almost nonexistent in the sky, not that we saw much of it today as the rainy season is now in full swing. The dark clouds that are forming again suggest we are in for another storm this evening, which will only add to the already flooded streets. I look down as I walk up the 5th street and notice a pool of blood, another reminder of the constant battles that are fought here on a daily basis. As I lift my head a man in his 30s falls into the road in front of me, followed by a much younger man, who is living with his girlfriend in the streets, and who lashes out with his fists and feet as the older man crawls away, then tries to stand and eventually wanders off.
No one thinks this is something to watch or to intervene in and the few young adults on streets seem more focused on their solvent-drenched rags they lift to their faces and close their eyes for a momentary numbing of their pain. I am recognised and Ericka calls out to me and asks me how I am doing and when is Benjamin going to come and visit. Benjamin has been with me in the UK and will be returning to street work this week. Ericka has survived many years on the streets and despite the many times we have rescued her and taken her into rehab centres, she has chosen the streets again and now can´t walk and so it at the mercy of whoever is passing.
On the street corner Moses´s grandmother is waving at me and I head over to greet her and can see she is genuinely pleased I am back in Guatemala. She tells me that it has been difficult to visit Moses of late due to a huge hole opening up in the main road that leads to the area where the home is. The three-lane road is now closed and is causing no end of congestion in an already grid-locked city. The hole, it seems, opened up a huge cavern below and so this won´t be something that is resolved quickly.
I then meet Monica, a lady who works in the sex industry and talks to me about her young daughter, who we have helped get into school in previous years when schools were open here. Monica is one of the many ladies and some men who offer their services in the 5th.
I am then grabbed on the arm by Manuel, a man who has spent almost all his life on the streets. I have known him since he was 8 and have seen how street life has taken its toll on him, but his smile is infectious and you can´t help but giving him one more chance in a rehab centre when he asks for your help. Manuel is not asking for anything today, however, and would just like to know how I am doing and when Benjamin is coming back.
The rain is about to fall now and when it rains here it really rains and I have no transport, no coat or umbrella and so head to "las casitas" (little houses) as I know there is shelter there and where a few people are already waiting for me.
The alleyway that leads to the las casitas is dark even during the day and now seems more imposing than ever. I make my way through the various alleyways that link the 5th with the central part of La Terminal and walk past numerous families trying to cook their evening meals in the alleyway while their children splash about in the puddles left by the earlier rains.
Amanda and her husband David are sitting on a small ridge of concrete that was placed against the tin wall where it meets the now concrete alleyway in order to keep out the rain from entering their shack. Amanda smiles and gives me a long hug and welcomes me home. David shakes my hand and tells me he and Amanda are worried about Carlos and Daniel who are now very street connected and Carlos is doing more drugs while Daniel, his younger brother, is not coping well after being released from the children´s prison a few months ago.
I then meet both boys and offer to take them out for some food as Carlos is very hungry and hasn´t eaten anything all day. Both are of great concern to me as I have known them all their lives and are our number one priority in terms of rescue and rehabilitation.
My time with the boys was very special. Neither of them spoke much as they munched through their hamburger and fries and then sat back and listened to me tell them about my trip to the UK and showed them photos of some of the walks I did along the canal paths on the Welsh border. I always hope that showing them another reality will lead them to having dreams about a possible alternative to the life they currently are signing up to.
It is very hard to drop them back to their little tin shack as I know just how hard it is to live there with no light, no water, no toilet, no food and the constant threat of the little they do have being stolen or rotting away on the damp dirt floor.
I walk up the steps to another path that takes me back to the main road where I can grab some transport and head home. "Duncan", I hear someone shout and turn around to find Carlos (photo above) running towards me with his arms out wide. His hug is long and he buries his face into my chest and tells me that it is great to see me. It is not long before he asks when Benjamin is coming back as he and his girlfriend are wanting to leave the streets and go into rehab.
We spend some time talking about how he is doing and his desire to have a different life as he would like to settle down with his girlfriend and have a dry and safe place to sleep at night rather than the streets. With the rain now pouring down it is clear that those who live in the streets are affected to a greater degree this time of year and once you are cold and wet, trying to sleep on the street is a miserable existence. I buy him and his girlfriend some hot food and we say our goodbyes and he commits to coming to our centre this week to work on a plan to leave the streets.
I smile all the way home as I am so happy to be back and able to bring some joy to those I have met this evening. It is never easy to climb into a dry bed while you think of those you have left behind, but at least we are here on a daily basis and thanks to your support can keep making a difference.
---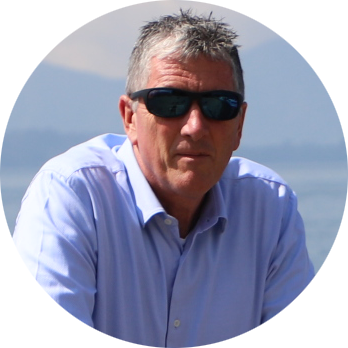 Duncan Dyason is the founder and Director of Street Kids Direct. He first started working with street children in 1992 when he moved to Guatemala City and founded The Toybox Charity. His work has been honoured by Her Majesty the Queen and he was awarded an MBE the year he celebrated working over 25 years to reduce the large population of children on the streets from 5,000 to zero. Duncan continues to live and work in Guatemala City.