Sunday 24th July 2022
---
I have known Moses since he was 6 years of age. The background to his story is one I would like to keep from this blog as it is deeply painful and distressing. I would, however, like to express my feelings here as I am deeply proud of Moses and the home that is taking such good care of him.

In Guatemala, children´s homes became a huge industry in the 1990s and the growth in private and government homes led to unbelievable stories and numerous allegations of abuse, neglect, death, torture and prostitution. One day, as we are seeing in many areas of the world, the truth of how many children have suffered in some of these homes will become public. But this must not overshadow the excellent work being carried out by hundreds of homes all over the country.
The jewel in the crown is the New Life Advance International home in Villa Nueva, Guatemala City. The home was the only one prepared to take a risk and accept Moses and offer him the most fabulous opportunity to be loved, be protected, be cared for with a first class education, medical care and personal development activities. I can´t speak more highly of them and would encourage anyone to take a look at their website and check out what they are doing.
I had hoped the judge would allow Moses to come and spend the weekend with us in our Protection Home. But being new to the case of Moses and his relationship to us meant that his application for the weekend away was denied. However, the home was able to grant me a day with Moses and so we planned a list of activities that would be almost impossible to accomplish in a week, let alone a day!
I went with Matt Levett, who was visiting Guatemala and on his way home to the UK, to collect Moses and start his day of adventures. After dropping Matt off at the airport I asked Moses what he would like to do next. Without hesitation he asked to be taken to "la quinta" where his mum (actually his grandmother, who has cared for him since his real mum died when he was 6) works selling fruit and sweets in the streets. It's a tough job and her health is not great and Moses is constantly worried about her.
We "had" to go past a fast food restaurant where he wanted to buy his mum a cooked breakfast, something he knows she has only experienced twice in her life. We now head down the infamous "quinta" and see her on the corner selling small bags of sweets and face masks. Immediately Moses wound down the window and called out. She came alive and smiled like she had just been offered the world. Moses jumps out of the car and runs over to her and gives her the biggest and longest hug I think I have ever seen him give.
Breakfast is served and Doña Licha, Moses´s grandmother and mum waves us off as we head to our new mentoring centre, Centro Opp, where some of the boys were working and studying and were excited to see him. The last time they saw Moses was a few months before he was taken into care and since then has grown substantially. Like many boys of his age he is proud of the business of growing and is keen to show you his muscles and how tall he now is.
What I love about the day is that Moses is constantly saying things like "I remember this" and "the last I did this was over a year ago". We sat down in the lounge where he wanted to catch up on some episodes of Flash, a programme that I have had to watch with him over the last three years and so am quite versed in particle accelerators and the multiverse! He is also keen to show his musical ability and gets out my guitar and starts singing me a song.
Eventually we head out for lunch and I am keen to treat him to a simple and healthy option in a rather well-to-do area of the city. We park and walk towards the restaurant. Moses, even though he is 14, still wants to hold my hand as we walk along the road and then into the restaurant. He is still sweet and despite losing many of those endearing boyish features, is like a small child again. At one point I give him some money to buy something in a shop and he struggles for a minute as he says "I´ve forgotten how to act outside".
The home offers everything he needs and there is a small shop on site the children can buy things with their pocket money. I suppose part of my role is to help support the home as they are now focusing more of their time on preparing Moses to leave in just over three years' time when he turns 18. Not that he needs to leave as they also provide a fantastic transition home for young adults entering back into the real world.
We finish the day at the cinema where Moses chomps through a huge bucket of popcorn and drinks the largest cup of coke I have ever seen. He is happy and, as we get up, holds my hand again and moves in on one side for a snuggle and says thank you. It has been a very special day and we drive back to the home via a toll road where you can pick up a bit of speed, because 14 year old's and speed seem to go together well!
I am pleased we have been able to get Moses out of a really challenging situation, help him take a great decision not to choose a life on the streets like many in his family have done and to focus his attention on things that will lead to a very rewarding life ahead.
Your support, and I am sorry for saying the same thing every month, really does impact lives and Moses is just another example of how your support made a difference and has kept him alive. I pray that he will continue to thrive in the home and that our support will lead to great things in the future as he has plans to run a business and look after me when I am old!
---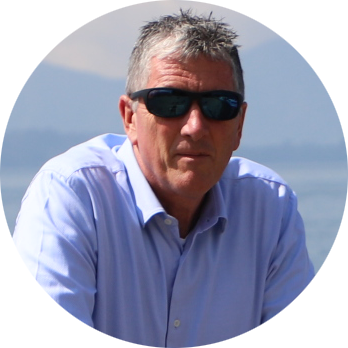 Duncan Dyason is the founder and Director of Street Kids Direct. He first started working with street children in 1992 when he moved to Guatemala City and founded The Toybox Charity. His work has been honoured by Her Majesty the Queen and he was awarded an MBE the year he celebrated working over 25 years to reduce the large population of children on the streets from 5,000 to zero. Duncan continues to live and work in Guatemala City.