Sunday 1st December 2019
---
Christmas is a busy time of year for most of us, but with our biggest fundraiser happening every Christmas it is a very hectic time for all of us here in Guatemala. So, this year, for the first time in history, I am actually prepared!
I have bought all the presents for the boys who are in the mentoring programme with me and now it´s time to spend time with them and their families doing fun things as they know that when Radio Christmas begins I won´t be available until the week after Christmas.
It is easier for me to tell you the story of how we are preparing for Christmas through the eyes of the kids I am working with and hopefully you will be encouraged to know that donations are used well here and it really does make a difference to many vulnerable children.
The Protection Home "Casa Alexis" was very busy in the lead up to Christmas with the kids loving the idea of having a real Christmas tree in the home and excited that they could decorate the tree and hang up all sorts of decorations around the home. We had planned for groups of them to come for sleep-overs as a reward for great school results and good attendance at the mentoring centre.
We are joined by a Guatemalan family who have come to meet the children and help out as we prepare for this festive time. Pete and Ruby, visitors from the UK, came to help and brought a great cooking activity that was a big hit with the children, who wrapped up decorated biscuits in tin foil to take home and share with their families.
I began my special activities with the boys in the mentoring programme. Moses wanted me to take him to the Christmas fair that was in town and so five hours of rides, candy floss and all sorts of unhealthy food and drink culminated in a special time with him talking and praying about the meaning of Christmas and what he was hoping for in the coming year.
The Saturday boys, now known as the Adventurers, wanted to go out for dinner together, but it was not the memorable time they had dreamed about. I had taken them out to a second-hand shop to find smart clothes for the event and, after a hot shower and all dressed ready for our meal out, we found ourselves in a 2-hour traffic queue and when we got to the restaurant that offers the most perfect view of the city lights, fog slowly formed and all we could see was the lights of the restaurant car park. One of the boys was then ill with stomach cramps and so the evening ended on a low rather than a high, but at least they have since remembered back and said they thought it was a very special time together.
The boys I usually work with on a Sunday had a treat in store as I wanted to take them to a up-market shopping area where the boys could enjoy half an hour on a bike, something that was almost too exciting for one boy who told me later this was his first ever time on a bicycle. I think the adrenalin mixed powerfully with his confidence that he could ride a bike meant that he just sat on it and off he went.
For these boys it was a memorable day out with me and finished with us getting their presents bought and wrapped ready for Christmas. They were keen to choose their gifts this year and not rely on me to buy them something "cool". Growing up means greater choices in life and ones that I can see they are navigating well.
Meanwhile the mentoring centre was being turned into a radio studio again and so Moses was keen to learn how to be a technical operator. He was my number one in the end as I could always rely on him to turn up at all sorts of hours to help where needed and always did a very professional job. A couple of days he slept over in the lounge of the centre with either David or Danilo, who were also keen to run shows and help out.
David is 16 and has been with us in the mentoring programme since he was 11 and is now one of our volunteer team. David is a very caring responsible teen and flourishes with any responsibility you give to him. The younger children love him to bits as he always has time for each of them, like the hour he spent with little Cristian playing with toy cars and just letting him talk about his life and worries.
With just a few days to go before the launch of Radio Christmas we took all the children to spend the day at Mark & Rosalie´s new home. Mark & Rosalie moved out to Guatemala two years ago and have settled into a pastoral role and rented a rather lovely home about half an hour out of the city. It is a great place for retreats and a place to just go to and rest or be refreshed.
The children arrived and ran around exploring the grounds and the house and then the leader-led games began while some made Christmas biscuits and had free time to play. For two children, Rony and his sister Marleny, it was like being let loose in a sweet shop for the day. Their eyes were wide open and, at times, they could not contain their excitement. I showed them a little Wendy House and explained how we could play shops with all the play food and till inside. They had never played this before and so needed some instruction. When they got the hang of it they took turns in coming with me to the window, each time in a different disguise and voice, and buying several things from the shop. "Again, again" they cried when I had bought all the produce and so off we went again.
Every time I have seen them since they talk non-stop about that day and Marleny keeps asking if she can go and live there one day. Creating great memories is what we love doing and I know how important these events are for the children.
Benjamin was busy with me preparing a few videos for Radio Christmas. We know how important it is for us to show people the impact of their donations and there are so many stories to tell including how Sergio had been helped to leave the streets again and was now graduating from rehab and starting his life over again. To begin with he will stay in a half-way home in Antigua, Guatemala and we will help him find work and then a place he can live. We are grateful to Aaron who helps fund and run the half-way house and are hoping that this will now be the break that Sergio needs to begin afresh.
---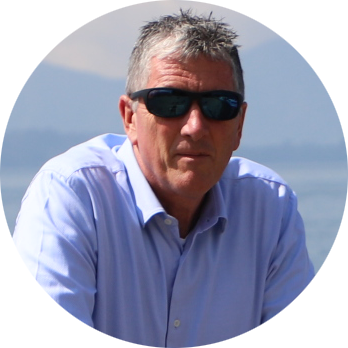 Duncan Dyason is the founder and Director of Street Kids Direct. he first started working with street children in 1992 when he moved to Guatemala City and founded The Toybox Charity. His work has been honoured by Her Majesty the Queen and was awared an MBE the year he celebrated working over 25 years to reduce the large population of children on the streets from 5,000 to zero. Duncan continues to live and work in Guatemala City.
Duncan Dyason