Wednesday 1st January 2020
---
The New Year begins with a rather solemn reflection on an experience I had last night, and one that I just need to talk with you about as it has made me feel very sad indeed.

While the team are on holiday I deal with calls and any emergencies and receive a call from 17-year-old Carlos who wants to see me. I head to La Terminal to meet with him as I know he has been suffering from all sorts of issues recently, but I have not been able to go and see him due to being on the radio so much.
Walking into La Terminal here in Guatemala City after a few weeks absence makes me feel alive again. The busy market is bustling with overcrowded streets and people everywhere trying to sell you fireworks. In other areas of the city it is very quiet indeed and most shops are closed. But La Terminal never closes and there are always hundreds of people looking for bargains and to stock up ready for the coming days.
I step out of the sunshine and into almost complete darkness as I enter into the alleyway that will lead me to Carlos´ house. My eyes soon get accustomed to the darkness and then further on shafts of light begin to penetrate through the gaps between the tin roofing and illuminate my path.
Carlos is in bed and seems somewhat pleased to see me and asks if I can do something for him to celebrate his recent birthday and to end the year on a positive note rather than being high on drugs or on the streets.
His home is a small tin shack that is now shared with his mum, sister and a new dog. The living conditions are stark and they seem to suck out any hope or joy you might have and leave you feeling, like Carlos is feeling at this moment, – rather down.
I tell him that I will take him out later and that he needs to meet me at our mentoring centre at 5pm, which will give me enough time to go with him and buy him some new clothes for Christmas and birthday. For the moment I need to return to our centre as some of the boys had offered to come and help me pack up the radio studio.
Packing up usually takes me around 5 hours as you have to be careful with all the equipment and cables and pack it all away with bubble-wrap and plastic and store it safely ready for November when we start all over again.
Four boys arrived and I am pleased that three of them were there to help when we set up the station and so know how to handle the equipment. Fredy, on seeing my face at how well they are doing in packing things away, says: "this is what being brothers is about Duncan", and carries on doing the most excellent OCD job of packing things away.
We finish in record time and so I decide to take them for an ice cream to say thank you. On our return we find Carlos outside the centre waiting for me. The boys are very good at making him feel welcome and despite his demeanour and very dirty clothes and body he smiled and could see that the boys were already welcoming him and accepting him into their little group.
I say goodbye to the boys and thank them again for a fantastic job done and walk with them to La Terminal where they live and start looking for some new clothes for Carlos. I can see that Carlos is struggling at the choice before him and so goes with the first thing one of the shop vendors offers him. He tries on the t-shirt and jeans and seems happy and wants to wear them right away. I advise that he would be better off coming back to the centre and having a shower and then putting them on, but he is already walking out of the shop and so I pay and walk with him back to his little tin shack.
His mum is sober and is washing clothes when we arrive and seems very happy to see me. It is already now nearly sunset but is almost always dark in their home and alleyway. A girl in the alley shouts out saying that she is going to have a shower in the alleyway as that is where the only tap is and so can we all stay in the shacks until she is finished. Carlos has already prepared a small plastic bath with cold water, is undressed and begins to wash himself. I try and engage the mum in conversation while Carlos asks me to find him a towel and then shampoo among piles of clothes and recycled cardboard.
Carlos´s mum tells me that he has not washed for ages and has been either on the streets high on solvents or in the bed watching a small TV and high on solvents. The water he is using is growing increasingly black, but at least he is now cleaner as he steps out and comes over to me to tell me how much his mum has been drunk every day while trying to find clean underwear and eventually gets dressed.
I have decided to take him to Cayalá, a rather posh area of Guatemala City that has been created for middle to upper-class people to hang out and spend their money. It is a private "city" that has been built to help you feel that life could really be like this with no litter, no crime and where everyone around is dressed well and smiles when they catch your eye.
We take a taxi to get there as I know that with the huge firework display planned for later this evening, the place will be a nightmare for both parking and coming home afterwards. The taxi drops us off at the entrance and we walk into this perfect land of designer shops and clean walkways, manicured plants and the most perfect lights above us that make you feel you are walking into a Christmas movie set or on the new set of The Truman Show!
Already I can see that Carlos feels uncomfortable and when we have to walk down the first set of steps I notice that he can´t do this without holding onto the side rail. He is trembling and looking around him nervously while giving me a smile and saying he is hungry. His choice of food is chicken and so I find somewhere that is both reasonable while offering a more relaxed environment for him to eat.
Carlos looks at the menu and has no idea what he is reading and so I offer to help him choose a chicken dish I think he will enjoy as it comes with mashed potato, something I know he likes. The waitress takes the order and quickly comes back with the drinks and then the meal, as the queue outside to be seated has grown rapidly in the short time we have been in the restaurant.
When the food arrives, Carlos looks at the plate and does not know where to begin, so he takes his lead from me. I pick up my knife and fork and begin to cut the chicken and taste it while he struggles to hold the knife, which then falls to the floor. He is shaking more now and does not know what to do. The waitress brings over another knife and he tries again. It seems like his very first time of using a knife and fork and his embarrassment becomes evident to families on adjacent tables.
I tell him my newest joke and that helps him settle in a bit and feel comfortable enough to use his fingers now to eat as he discards his knife and fork towards the edge of the table. I am taken in my mind to the last time I took my aging father out for a meal before he died. He would have to use his fingers to eat, struggled to drink without spilling it and spilt a lot of food over himself and the floor before saying he would rather not come out to eat again.
Carlos was able to cope with drinking, but did need two hands to steady the shaking. I am devastated how much he has deteriorated in the last year and now, just 17-years of age, is a boy in an old man´s body. He finishes his chicken and the waitress is very good at helping clean things up while he asks me about his book. To be fair it was the last thing we talked about before I was ensconced in the radio project.
Because I have known him all his life and seen just how hard the world has hit him and how he has responded I said to him one day that his life is quite an incredible example of how a boy can grow up in the most difficult of circumstances and still be able to smile. The idea of writing up his story in a book had an immediate appeal and so Carlos brings up the subject again.
If the book is ever written, and I hope it is, I know it will be one riveting read. I explain that it would be good to talk about his beginnings and, knowing his father when he was alive, I know that those early years will be quite hard to write about. Then when he becomes 9 and goes through the most horrific attack that transforms him into a recluse and he withdraws into himself so much that I lose the cheeky, smart, vibrant 9-year-old boy that I have grown to love so much. It will be tough to write and certainly very hard to read, but it´s a story I think needs to be told.
We walk around for a bit and can see that all the best seats for the evening´s star performance in the central square have already gone and the team that is in charge of the fireworks are checking and double checking all is in place and can cope with a slight mist that has now fallen on the area. I treat Carlos to an ice cream and we sit and watch the show begin. After 10 minutes Carlos tells me he does not want to be here and feels very out of place and could I take him back to his bed.
We head home and I drop him off at his shack and he climbs back onto his bed and shouts goodnight. It is only 10pm and there is still two more hours of celebrations and fireworks in the streets, but Carlos wants none of it and pulls the cover over him and curls up into a ball and drifts off to sleep.
I am home in half an hour and much earlier than I had planned. But I am very sad at what I had just witnessed and wonder why a boy like Carlos is dealt such a massive blow in life. Happy New Year Carlos and let´s hope that this year is one of hope and new beginnings for you.
---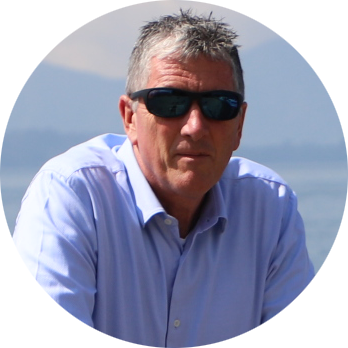 Duncan Dyason is the founder and Director of Street Kids Direct. he first started working with street children in 1992 when he moved to Guatemala City and founded The Toybox Charity. His work has been honoured by Her Majesty the Queen and was awared an MBE the year he celebrated working over 25 years to reduce the large population of children on the streets from 5,000 to zero. Duncan continues to live and work in Guatemala City.
Duncan Dyason