Thursday May 14th 2020
---
I still remember the day when my daughter was born and the joy I had driving home from the hospital to tell everyone we had a baby girl. It was one of the most emotional, precious and miraculous moments of my life.

So, I do know what it feels like to be a dad and to feel that instant protection towards this new and fragile bundle of love. For some reason you also start to feel more protective towards any child you come across and so I could understand the pain Doña Lidia and Don Diego were going through and the urge to protect them and their two children.
Diego and Lidia live in a marginal area of Guatemala City and I mentor their oldest child, Cristian, who is 11-years-old. As I have got to know them over the last two years, I have grown very fond of them both and their two boys and when they told me they were expecting their third child I was thrilled for them. However, at the same time, I was concerned as to how they would manage to feed another child on such a low income.
Two weeks ago, during a regular visit to see Cristian and offer some support for the frustration of the lockdown, Lidia looked at me with such a sadness and confided that her baby had not moved for the last three weeks. It was due in about 8 weeks and so I took her early the next morning to a specialist clinic in the city.
Lidia went from one room to another and eventually the doctor came out and asked me to come into the consultation room. I sat down next to Lidia, who was crying, and I guessed what was coming next. The doctor explained that there was no heartbeat in the scan and she could see that the baby had passed away about three weeks ago. Her recommendation was that we went straight to A&E and have the baby removed.
Despite me going over the option a few times and how we could help look after her boys while she was in hospital, Lidia decided to return home to her little tin shack and wait for her husband to come home. "He is the one who will have to decide", she tells me while using ta sodden tissue to wipe her eyes and nose.
Later that evening Diego calls me to thank me for taking his wife to the clinic, but he felt it was not necessary to go back or go to hospital as he believed the baby was still alive and that all would be well.
The last two weeks have been difficult for me as I have been very concerned for Lidia´s health and so have pushed for another scan. This was on Thursday morning and I had to find another private clinic as Diego said he did not trust the results of the other clinic. Our 7am appointment could only confirm the news that they were both denying, but I went through it with them to try and help them move forwards.
The doctor called me into the clinic and showed me the results of the scan and explained to the young couple that their baby was dead and needed to be removed otherwise it could affect the health of the mum in a serious way. It was an agonizing few minutes. We left the clinic and headed to the car park where I asked them what they wanted to do. They looked very alone and vulnerable and I could see the agony they were going through and so suggested I wait in the car while they discussed their plan of action (photo).
The minutes ticked by and I sensed that they were about to make a decision they would regret for many years to come. Diego said that they believed the baby was alive and so would return home. I invited them into the car and drove them home in silence. It was a difficult time for them and, as they left and thanked me for my help, they said they would try and make it to their family home, 2-3 hours drive from the city.
Given that we are in partial lockdown and that those who live in the city cannot travel to any other district in Guatemala due to the virus, I wondered how they were going to get there. Diego explained that he would take the motorbike and transport the family to the countryside and hope the police would not stop them. I didn´t know he had a motorbike as it is never stored in their little shack. Diego told me that it was not a great bike and he had yet to get his licence! How he was going to take them all on the bike the following day I could not imagine.
I called him that night to see if he had changed his mind, but no answer. I called the next day and yesterday and still no news. I can only pray and hope they are safe and that little Cristian copes with this ordeal after seeing his parents go through so much over the last few weeks. If anything happened to his mum I know he would blame himself and he has enough to deal with as the last few months have been particularly hard for him.
When Cristian started with me in mentoring, I could see that this ruddy-faced boy was shy and withdrawn. Slowly, over the last two years, his shyness has been replaced with a confidence that has encouraged me greatly. However, a couple of months ago he withdrew into his formal shell and so our discussions led to the disclosure of him being sexually abused by a 13-year-old boy who lived nearby. The description of what was going on was not easy to listen to, it never is, but we had to start asking more questions and this led to the discovery that his younger brother was also being abused by this boy.
Three years ago, I wrote about how we had uncovered a child-prostitution ring run by children in La Terminal. As we interviewed children, we also found out that most of the sexual abuse that the children were experiencing was been perpetrated by other children. So often in our child protection training we talk about adults abusing children and the signs to look out for, etc. But rarely do we deal with the reality of what seems to be prevalent here, children abusing children.
Little Cristian has a lot to deal with right now and if they do make it to the country, I hope he can find the space to start to deal with all that has happened this year. All I can do is hope they answer the phone and tell me all is well. When Cristian does come back, I know that our mentoring sessions will involve quite a few tears.
---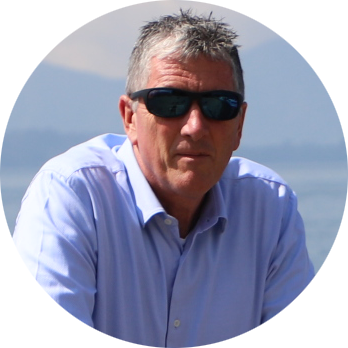 Duncan Dyason is the founder and Director of Street Kids Direct. He first started working with street children in 1992 when he moved to Guatemala City and founded The Toybox Charity. His work has been honoured by Her Majesty the Queen and he was awarded an MBE the year he celebrated working over 25 years to reduce the large population of children on the streets from 5,000 to zero. Duncan continues to live and work in Guatemala City.
Duncan Dyason