Saturday 16th May 2020
---
We recently released a video testimony of one of the girls we have helped over the last few years. Damaris, for me, is an incredible person and her story of being rescued from the streets and how her life has changed can only bring you to tears. Her father, who is now a totally transformed person, has a testimony of how his previous life of drinking, violence and abandoning the family home led him to a very dark place indeed.

Understanding the frequently told story of how alcohol plays a destructive role in a father´s life, enticing men every payday to spend a good proportion of their earnings, if not all, on drink, is both upsetting and often leads to hunger, violence and homelessness.
When I saw Sofia´s face last week I knew that the presenting story of a loving family had its flaws. Sofia is mum to two adorable children, Luis who is 11 and Anabella who is 8. Luis is another one of the boys I mentor and over the last year I have helped him see that making good decisions in his life can only lead a much brighter future and, unlike so many boys from the area where he lives, not start the slippery slope that ends up on the streets.
Sofia had always tried to show me that the family was united and that Byron, her husband, was loving and committed to them. But as time has gone by and with many discussions with her son, I have come to see that the issue of alcohol abuse has be tackled head on.
It was my arrival the other day that triggered all this. Visiting families at risk is rather limited at the moment due to the curfew, but with a few hours in the day open for me to visit I need to see as many as I can. It takes most of the week now to visit all the 10 boys I mentor and their families and the emotional toll is sometimes rather hard to deal with.
I stand and talk to Sofia after getting a big hug from Luis and a hi 5 from Anabella. I can see in her eyes that she is about to burst into tears and so I ask how things are with her husband. This time the usual "yes, all fine thanks", is replaced with a story of the reality she and the children are living with. They are desperately hungry and have no one to talk to and nowhere to go for help.
As the tears begin to flow, I ask Luis to give his mum a hug and, as he does so, he bursts into tears together with his little sister. I leave them to cry for a while and hear Sofia tell Luis that he does not need to cry. I can´t help but feel the pain they are going through as Sofia tells me that her husband, who earns very little, is now spending every penny of it on drink every Friday.
The previous Friday Byron was so drunk he never came home and slept out on the streets. Luis tried to go and find his dad, but the curfew meant he would be arrested and taken into care. Sofia did all she could to keep him at home, but he did not sleep all night thinking about his dad in the streets.
I agreed to go along on the Sunday and talk to Byron as it was the only day he was not working. I wondered how he would react to me knowing he has a serious issue with drink and if there would be repercussions for his wife and children.
So many of the boys I have seen take to the streets from this community in Guatemala City have done so due to abuse and violence from an alcoholic father. Our role in mentoring is to prevent more vulnerable children taking this step and offer them a supportive structure that can lead to the child making positive life decisions, where street life is not an option any of them will now consider taking.
I knock on the door and am invited in. It is early and many families are still asleep, but I have a lot to fit into the few hours we have before the afternoon curfew begins. Byron finds a small wooden barrel and invites me to sit down. Sofia sits on a folding chair and Luis and Anabella lean on her as Bryon thanks me for visiting. He obviously has no idea why I am here and so I decide to go straight into the discussion stating my concern for them as a family and for him in particular.
Byron is trying his best to focus on what I am saying, but he is still drunk from the previous night and Sofia tells me that last night he slept on the streets again. This led to both the children burying their faces in their mum´s breast and crying uncontrollably.
Today it´s Mothering Sunday and what a day to have to deal with this situation. Byron begins his tale of excuses and deviates so much that I have to work hard to keep him focused on his behaviour the previous night. The gentle approach is clearly not working and so I have to speak to him like a father and tell him in no uncertain terms the affect his drinking is having on his life and on his family.
The invitation to start a new life and leave the drink invites a positive response as he allows me to pray for him and encourage him to start this very day. Mothering Sunday would be the most excellent day to remember when he left behind the drink, I suggest, and focus now on his wife and family. I can see that he has sobered up a little and begins to say sorry to his family.
Looking around the room it was clear they have no food whatsoever and so I ask what they had eaten for breakfast. Sofia says they have not eaten at all the last two days as they have had no money. Bryon hangs his head low as he sees the impact his decision to drink is having on the family.
Since we have little time left, I invite Luis to come with me to the supermarket where we buy some food for the next few days and a special treat of a cake to celebrate Mothering Sunday. He is nothing but smiles and we discuss the importance of showing our emotions and being allowed to cry. So many boys are told it is not good to cry and I can only remember my own childhood and the experiences of being beaten more when you cried. I shared that with him and tell him I am proud to see him cry and show how upset he is as this must be a very upsetting experience for him. I also discover that in order to eat the kids have been going their father´s pockets at night to find any cash, usually just a few pence but enough for a few tortillas.
We return to his little house and end with lots of hugs and me asking if I can come back next week with a friend of mine. "Of course you can, you are always welcome" Sofia tells me. My friend is Damaris' dad as I know his testimony will speak far more to Byron than my accounts of giving up drinking at the age of 18 after many months of wasting so much money on drink in order to forget the massive pain inside me.
Hope is rising and what a honour to now journey with a man who was once in the same place as Byron and who, just over a year ago, received the same talk as I had given today. Will keep you posted!
---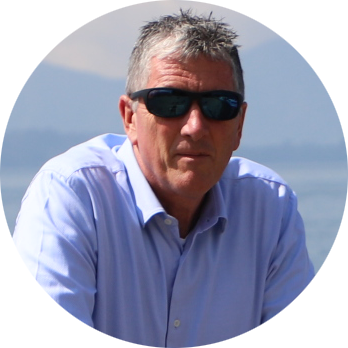 Duncan Dyason is the founder and Director of Street Kids Direct. He first started working with street children in 1992 when he moved to Guatemala City and founded The Toybox Charity. His work has been honoured by Her Majesty the Queen and he was awarded an MBE the year he celebrated working over 25 years to reduce the large population of children on the streets from 5,000 to zero. Duncan continues to live and work in Guatemala City.
Duncan Dyason