Wednesday 1st April
---
It´s an interesting day to reflect back over what has happened over the past few weeks and consider all that has taken place in the world as we face the COVID-19 pandemic.

I had planned a month-long visit to the UK for fundraising, meeting friends, family and donors and to speak at a number of churches, schools and interest groups.

On leaving Guatemala for the UK I become increasing aware of the growing pandemic that is affecting more countries and how it might now begin to affect the UK. My first few days are fairly restful as I visit John and Celia Banner in Kent and spend a delightful time with them and prepare for my sermon on Sunday at Christchurch, Tunbridge Wells – my home church.
However, the news is alarming and rocks my Saturday. The virus is spreading faster than most people had anticipated and one minute I am planning the following week´s talks and events and the next desperately trying to find a flight back to Guatemala the following day.
The Guatemalan President had said that the borders of the country would be closed indefinitely on Monday, followed by the announcement from Donald Trump that all flights will be stopped from Monday. The thought of now spending months in the UK was dawning on me and so I took the difficult decision to return to Guatemala where I know I would be needed more.
It was not an easy return as flights were few and far between and so I had to take a much longer route and sleep overnight on the floor of New York´s international airport. I was concerned that when I arrived at the check-in for Guatemala I would be turned away as the Guatemalan Government were now stating that anyone arriving from the UK would be turned back.
My flight was on time and I was welcomed on board. On arrival, however, things were eerily different. Our plane is parked in the waiting area and we now wait to be boarded by agents from the Ministry of Health and everyone would have to declare where they had come from and have their temperate taken. As the agents boarded the plane, I could see they were taking no chances as all are dressed in full protection gear that made me wonder what had happened in the five days since I left the country.
I am taken to see a doctor as I have come from the UK and then told I would have to return to the plane and would be taken back to Miami. I had to protest to the doctor that I was a resident of Guatemala, but he just pointed me back to the exit to board the plane. I called for an immigration officer to help and then the boss of immigration came over and explained to the doctor that despite me coming from the UK, I was a resident and so would be allowed in, but I have to go into quarantine for the next two weeks. Fortunately for me I am allowed to be in quarantine at home and not in the hospital where so many others from the plane were heading.
After my quarantine and during the early days of the pandemic we are trying to come to terms with the fact we are now living in a very different world. Each night we are glued to our screens to watch the news and hear the daily briefings from the President, who explains new curfews, limits on travelling and how we can access the few shops that are now open.
Visiting the boys I mentor and their families is now a challenge and I hear their fears and try to bring comfort and say that I will try and keep in touch as much as possible. With the restrictions now affecting us all it would be difficult to be in touch as before and all mentoring sessions are now cancelled and our mentoring centre would be closed. We are now living in a very new and different world and who knows when we will come out the other side and what life will then look like.
We are able to start buying bulk food supplies as it becomes clear that most of our families will struggle in the coming weeks and maybe months. Contacting all the families is not easy, but we do manage to get to most before further restrictions limit our travels.
With masks and gloves in place Alex Denton and I begin to distribute food parcels to all the families we support. All schools are now closed and the curfew means that kids are locked up inside tin shacks or in one room for many hours of the day and all night. It is clearly having a negative impact on their morale and so we come with the idea of starting a board games library. This lifts the spirits as kids begin to play more and cope a little better with the lockdown. Later that evening I call one of the boys I mentor who says "I can´t talk now, we are all busy playing a game". It made me smile and great to know we are helping bring relief and joy to so many thanks to your support.
---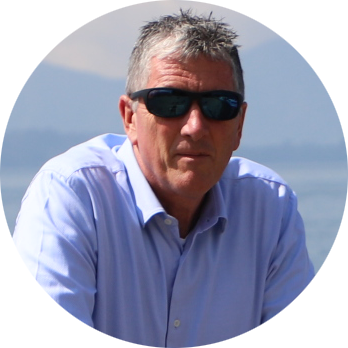 Duncan Dyason is the founder and Director of Street Kids Direct. He first started working with street children in 1992 when he moved to Guatemala City and founded The Toybox Charity. His work has been honoured by Her Majesty the Queen and he was awarded an MBE the year he celebrated working over 25 years to reduce the large population of children on the streets from 5,000 to zero. Duncan continues to live and work in Guatemala City.
Duncan Dyason