14th May 2021
---
Through this blog I'd love to share a story that has really impacted me recently. I'll also give a brief summary of activities that the street team has carried out over the last couple of months.
I returned to Guatemala City in February after going back to the UK for Christmas. I was originally scheduled to come back to Guatemala in January, but I came down with Covid which pushed my trip back a few weeks. Thankfully I have recovered well and was able to get back smoothly via a night in Mexico City.
Whilst I was in the UK I thought a lot about a man called Selvin, one of the young men who has lived on the streets for many years struggling with drug abuse. He was on my mind a lot because when I said goodbye to him in December, he was at death's door due to his level of drug consumption. I have seen people in similar states before and many haven't lived much longer, so you can imagine my concern especially because of the friendship I have made with him over the last 5 years.
I was keen to see him when I got back and when I did it was clear to see the level of damage the drugs have had on his brain and body. So my colleague Juan Carlos and I were quick to take action. I called a rehab centre to see if they were receiving people, to which they said yes.
We started the hour trip to the rehab outside the City.
The journey was rough as we had to stop several times so that he could throw up as he couldn't keep any food or liquid down. We saw the extent of his condition as his body was rejecting even sips of water. It was hard to see someone only a year older than me at 26 trembling on the back seat in such a vulnerable state.
When we finally made it to the rehab they quickly refused to receive him as he had been there before and left after a couple of days. In Guatemala we struggle to find good rehab facilities that offer unconditional support to people. We recognise that drug related issues can involve several relapses before someone can make that change. I want to give the people we work with as many chances as they need to overcome their addictions and transform their lives, without letting them take advantage of the help we are giving them.
I remember in that moment pleading with the rehab as we had no other place to take him. I was simply thinking, "what do we do now?." After going through our lists of contacts, someone gave Selvin a lifeline and recommended a rehab an hour and a half away from where we were. So we took off straight away.
On arrival at the new rehab we were greeted by a lovely man called Roberto. Selvin managed to get out of the car and sit on an old tyre. Roberto took one look at him and said "I remember exactly how he feels as I'm a recovered alcoholic." I was very moved as I had never seen anyone from a rehab treat someone with such compassion. As Roberto wiped the sick and saliva off Selvin's face only minutes after meeting him and said "this is your house now and I'm going to look after you." This was incredible to see as people don't often show the people I work with on the streets love or kindness, usually they don't even acknowledge that they exist.
Two months on and Selvin is much happier, chubbier and appreciating being alive. We know there is still a lot of work and support ahead but we're encouraged to see his progress. (See below image with Selvin and Juan Carlos during a visit to see Selvin at the rehab centre).

To summarise some of the other activities the street team have been up to over the last few months are the following:
-Follow up with those who have left the streets who are living with their families or in rehab.
-Medical support and doctor's appointments for a pregnant lady who has been consuming drugs.
-Continuing our visits to different groups of street people to strengthen our relationships with them.
-Financially supporting a recovered drug addict in his new role serving within a project that support a community outside of Antigua Guatemala.
Please do keep reading my blogs to stay up to date and read more stories like Selvin's.
I hope you have enjoyed this insight into the work the street team carries out on a daily basis. There will be many more stories to share.
---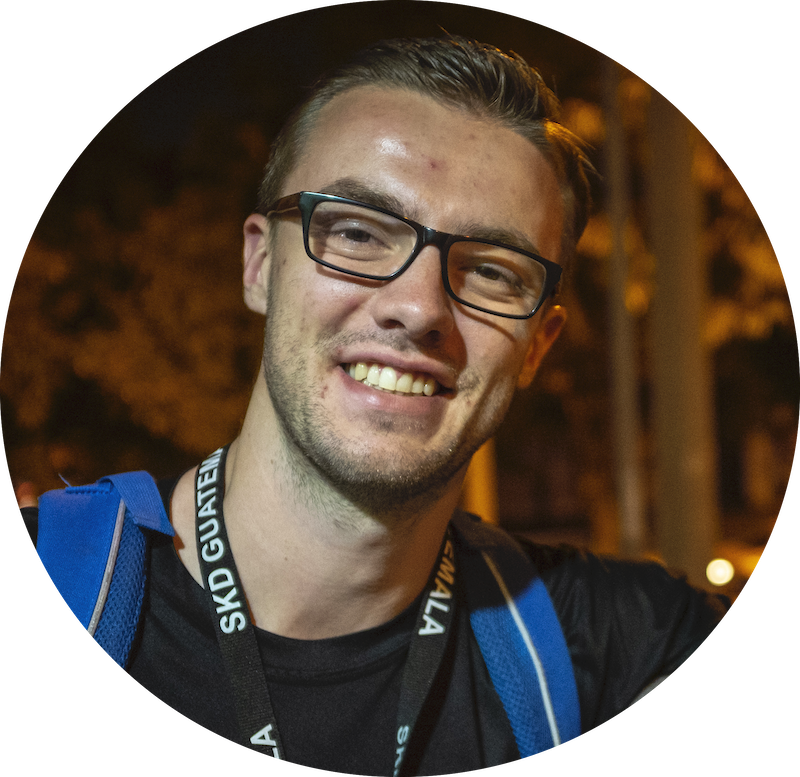 Benjamin Soden is the full time Coordinator for the Street Team for SKD Guatemala. He first visited Guatemala City in 2015 and moved permanently in 2017. Benjamin has a huge passion for working on the streets with people struggling with drug addiction.