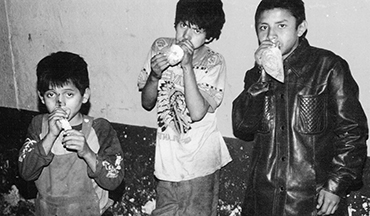 Hits: 154
Rating:

( 3 Ratings )
Lessons learnt in Guatemala
by Molly Jones
Guatemala, 1989. With more than 5,000 children living on the streets and the country ravaged by many years of civil war, it certainly wasn't a place you'd want to go to for your summer holiday. And yet, five years ago, the number of street children there had shrunk to zero. You may think there is no longer a cause to write an article about Guatemalan street children, but lessons learned from the many children who lost their lives in that country say otherwise.
Thirty years ago, it would have been normal to walk the streets of Guatemala City and see children stealing, being subjected to violence and abusing drugs by sniffing bags of glue. There were many reasons why children ended up in this situation. Often, they faced abuse at home, and couldn't access an education. There were so many stories of murder and torture of street children, often by the police themselves, that it was easy for many people, with hard lives as well, to be desensitised and view such children as just another problem for their dilapidated country.
But over the years, a few dedicated people started working and living alongside the street children. They set up homes and structures to help support them, recruited more volunteers, and began educating people about the issue. It has been a long, hard struggle. Often the children they had helped went back on the streets, and slipped back into their lives of drug-taking, crime, and frequently eventual death. Yet the kids who had given up on life had the opportunity to begin a new start.
Now, the testimony of these workers' efforts is showing. The number of children on the street has shrunk from an estimate of 5,000 in 1989 to virtually none living there permanently. It's amazing this has happened in a relatively short space of time, and this change can provide hope to other countries where the problem of street children is still widespread.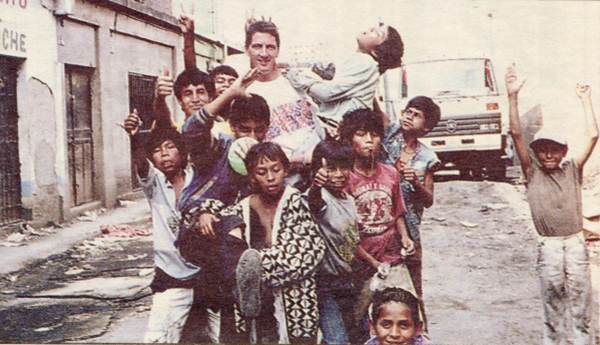 One of those who has worked in Guatemala long-term is Duncan Dyason, who was born in Canterbury and grew up in Britain, becoming a Christian as a young man. He flew to Guatemala in 1992, after watching the shocking documentary 'They shoot children, don't they?' He first set up The Toybox Charity, and then Street Kids Direct in 2000. His work and leadership has contributed massively to the reduction in numbers of children living on the street. The story of his early time in Guatemala is told in the book 'Miracle Children'. It was easy for him not to have hope when he first arrived. There were so many children in need it was hard to know where to start. But through persistence and hope, he has managed to make a difference to so many children's lives.
At first, getting to know the children was hard. They were naturally wary of strangers, given their past experiences and found it difficult to trust Duncan and his team. But they persisted, opening youth clubs for the street children, and establishing regular contact with many. Over time, they set up safe and caring children's homes.
Duncan's work in Guatemala shows the importance of having systems in place locally. If there were better legal protection and if homes for children had been more caring and safe, the streets would have been a less attractive option. With the right processes in place, such as regular checks of all children in their development and growth, and access to support, advice and education, children wouldn't have to live on the streets.
As the example of Duncan shows (together with that of the many people from the UK and other nationalities who have gone out to help him as volunteers), there is much we can do to help. Instead, at government level, we have cut the foreign aid budget and focused more recently on our own problems, rather than what we can do to help other countries. In Guatemala, the USA is helping to fight corruption. Australia is helping with more agricultural trade. At the same time, it shouldn't be entirely up to governments to provide assistance.
Not everyone will be as willing as Duncan to dedicate their life to improving conditions for street children, but there are still things we can do to aid places and people through our collaboration, such as giving our time and support, rather than ignoring issues and hoping things get better.
Any help has to be carefully planned out to avoid later obstacles and what could ultimately do more damage than good. In Guatemala, an example of this cited by Duncan has been the response of some charities to street children. One charity closed the children's homes it had previously opened for boys and girls and sold the properties to the directors of the charity. Even today, some of these homes are still owned by charity directors, and were not given back to the children who lost their home.
The amount of abuse that can go on in children's homes, Duncan says, can be horrifying, with few in authority facing any consequences. He also suggests that there is a danger that charities may choose to use street children and their suffering to raise money through stories and photos, but that much of the money raised does not go to help them. Duncan thinks the best way to help street children is by "helping small and local organisations that have volunteering at the heart who really impact lives, and then working with the government to offer training and resources that create robust structures for the better care and protection of children". We need checks and regulations to ensure that charities are running properly and that most money goes to help children in the right ways.
The emotional lessons learnt from the street children of Guatemala have been the most important: how they value relationships, and how even though they have experienced abominable amounts of abuse from family and rejection by friends, they still want this human connection. For street children, they never know if today is their last alive. They make no plans for the future, just live in the moment and appreciate the things they have, which for them is very little.
We, who have so much more, are often dissatisfied with our lives, searching for the next thing to bring us pleasure. So let's be more willing to help, hope, sacrifice, and value the time we have with people we love. The street children of Guatemala show us we're lucky to have these opportunities.
---