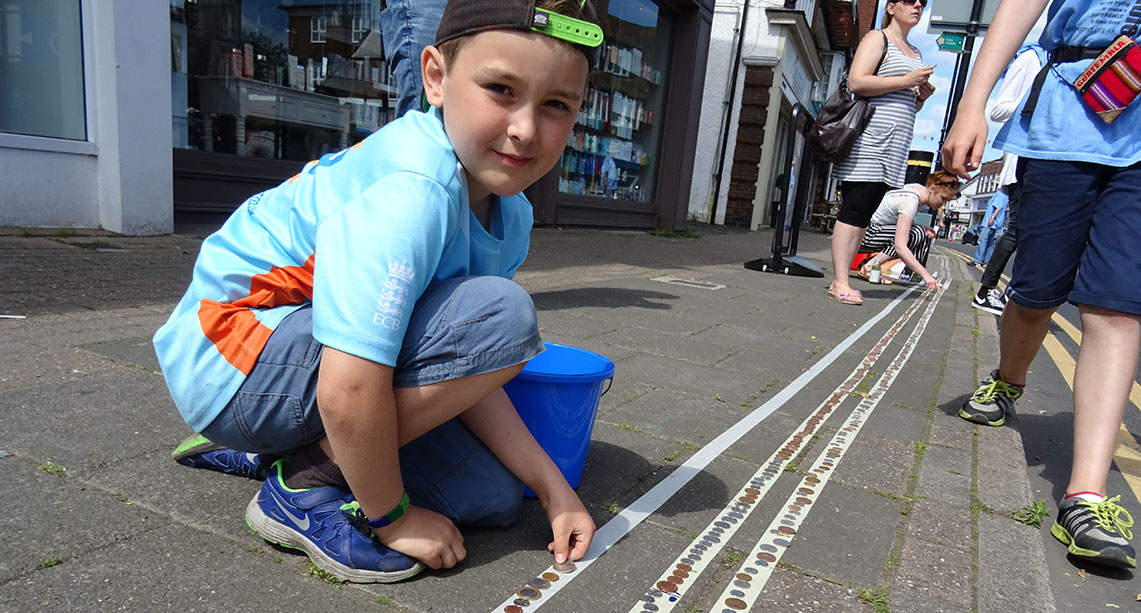 Our annual COIN RACE this year is on SATURDAY 6th June 2020, Sycamore Road, Amersham, Bucks, UK.
If you are interested in holding a Coin Race in your area, place of work or school, then please do contact us for further information but the basic principle is simple, requires minimum preparation, causes an instant presence in the High Street and raises between £1,000 - £2,000 in 8 hours depending on the busyness of the street.
We use a busy street in Amersham that has lots of shops and therefore lots of people passing by and have the boys team on one side and the girls on the other side to provoke some friendly competition.
At the beginning of the line of coins on each side we place a board that displays the running total for that side of the street. A chalk line is then drawn on the pavement from that point to a point suitably far enough away to generate interest by the public. Obviously the line then needs to be staffed by volunteers with collecting buckets.
Coins are then taken from the buckets by a team of volunteers who place the coins on the line while someone then follows this and counts the money on the line and updates the total when significant totals are raised.
A variety of other activities can then be organised alongside the line of coins such as Face Painting, Busking, Mime, Clowning, Statues or anything that would attract attention and donations to the cause.
You will need to ask your local Council for permission and a possible licence to collect in public before organising your event.
VOLUNTEERS NEEDED FOR THE AMERSHAM COIN RACE 2020!
If you would like to get involved in this year's Coin Race on Saturday 6th June 2020 please contact Dunc Dyason on 07771 966221 or via email (dunc@streetkidsdirect.org.uk) and consider how you might like to help and for how long you could help for.
Our day runs from 9am - 5pm and most volunteers offer to either help in the morning or the afternoon or for a set time period. We really would love to see you and you will receive a great welcome from the team as well as help us raise money to help children who spend all their time on the streets.
Could you help with any of the following?:
* Collectors
* Line Volunteers (placing coins on the line)
* Money Counters
* Buskers
* Artists
* Face Painters
* Clowns and other Street Performers
* Catering (supplying volunteers with snacks and drinks)
* Clean-up Team